Pasta with Shrimps and Alfredo Sauce
by Editorial Staff
A great idea for a romantic dinner. Shrimp, broccoli and Alfredo sauce – delicious. Try it.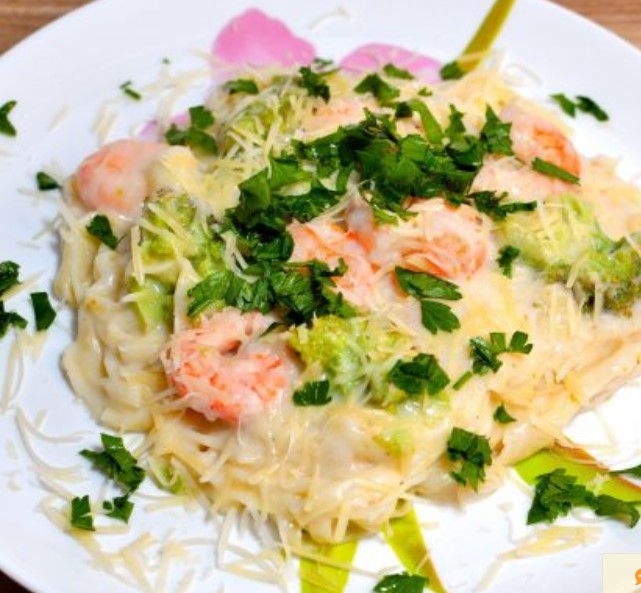 Cook: 30 mins
Servings: 3-4
Ingredients
Shrimp – 450 Grams
Spaghetti – 400 Grams (Fettuccinni works well)
Garlic – 3 Cloves
Butter – 2 Tbsp. spoons
Milk – 250 Grams
Low-fat cream – 250 Grams
Parmesan Cheese – 130 Grams
Salt – 1
Ground black pepper – 1 Teaspoon
Broccoli – 100-150 Grams
A bunch of fresh parsley – 1 Piece
Cornstarch – 2 Tbsp spoons
Directions
Dissolve the starch in the milk in a small container. Set the bowl aside for now. Melt the butter in a skillet with high sides. Add the garlic cloves, fry until the garlic smells and softens. Stir constantly, otherwise the garlic will burn.
Peel and wash the shrimp. Place in a skillet.
Pour low-fat cream over the shrimp, season with salt, pepper and grated Parmesan cheese.
Get in the way. Pour the milk with cornstarch into the pan, simmer, bring the sauce to thicken (simmer for about 2-3 minutes after boiling).

Simultaneously cook the spaghetti. Fettuccinnies work best and cook quickly. Put the spaghetti with the shrimp in the sauce. Add broccoli as well.
Stir, simmer everything together a little more (3 minutes) and serve. Garnish with fresh parsley.
Bon appetit!
Also Like
Comments for "Pasta with Shrimps and Alfredo Sauce"