Alfredo Sauce with Cauliflower
by Editorial Staff
Alfredo sauce with cauliflower – a detailed recipe.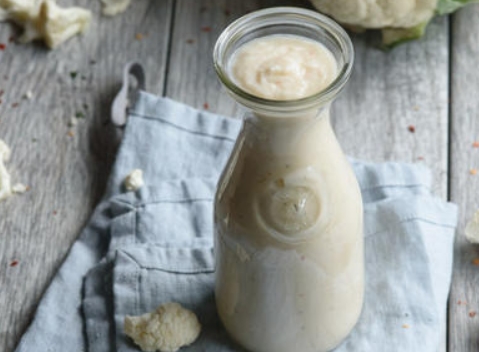 Servings: 6
Cook: 45 mins
Ingredients
Alfredo sauce:
2 tablespoon. inflorescences of cauliflower
1 tablespoon. 2% milk
3 tablespoon. l. (45 gr.) Butter
1 garlic clove, lightly crushed
1.5 tablespoon. grated parmesan
Shrimp pasta:
450 gr. fettuccine noodles
Olive oil
15 to 20 medium-sized shrimp, peeled
Chopped parsley for garnish
Directions
In a large saucepan, bring salted water to a boil. Add cauliflower and cook on low heat until tender, about 20 minutes. Remove the cauliflower with a slotted spoon and place in a colander, leaving the water in the pasta pan.
Boil fettuccine in the same water in accordance with the instructions on the package (usually about 10 minutes).
Make the sauce while the pasta is cooking. In a blender, combine cauliflower with milk and puree until smooth.
In a large skillet over medium-high heat, heat the butter and garlic until the butter is melted. Add cauliflower puree and simmer for 2 minutes. Remove the garlic. Season with 1/2 teaspoon. salt and 1/4 teaspoon. pepper. Turn off heat and sprinkle with Parmesan.
Heat another skillet over medium heat and add olive oil. Fry the shrimp lightly on both sides.
Remove the pasta from the water and transfer it to the alfredo saucepan. Add 1/3 tablespoon. water from the pasta. Heat and stir well. Add shrimp and garnish with parsley.
Enjoy!
Also Like
Comments for "Alfredo Sauce with Cauliflower"