Alfredo Pasta in Creamy Cauliflower Sauce
by Editorial Staff
All the charm of the Italian pasta "Alfredo" in its delicate creamy sauce, which is traditionally prepared from a large amount of butter and parmesan. This recipe will help you enjoy it without harming your figure. It contains just one spoonful of butter, and the sauce is creamy thanks to a mixture of delicate cauliflower puree and low-fat condensed milk without sugar. Fewer Calories and More Fiber! Whole-grain fettuccine paste will add even more benefits to this dish. Add green peas and lemon zest for a refreshing taste.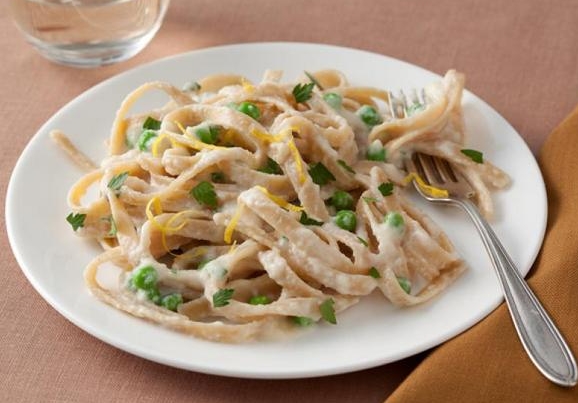 Servings: 4
CooK: 1 hour
Ingredients
2 tablespoon. cauliflower inflorescences, about 220 gr.
1 tablespoon. lightly salted chicken broth
220 gr. whole wheat pasta fettuccine
1 teaspoon extra-virgin olive oil
2 cloves of garlic, minced
0.5 tablespoon. condensed milk without sugar with a reduced fat content
3/4 Art. frozen green peas, defrost (110 g.)
1/4 Art. grated parmesan
1 tablespoon. l. unsalted butter
1 tablespoon. l. chopped fresh parsley + extra for serving
1.5 teaspoon. finely grated lemon zest
Directions
In a small saucepan, combine the cauliflower, broth, and 1 tablespoon. water and bring to a boil over medium heat. Adjust heat to maintain a low simmer and simmer until cauliflower is very tender, 25-30 minutes. Remove from heat and cool for 5 minutes. Whisk the cauliflower and all the liquid thoroughly in a blender until smooth.
Meanwhile, in a large saucepan, bring the salted water to a boil. Boil the pasta until al dente, 8 minutes. Drain the water thoroughly, ebb separately about 1 tablespoon.
Heat olive oil in a large skillet over medium heat. Add the garlic and fry until aromatic, about 30 seconds. Add cauliflower puree and unsweetened condensed milk and bring to a boil. Cook until slightly thickened, 5 minutes. Season with salt and pepper to taste. Stir in peas to warm, 2 minutes. Add boiled pasta, parmesan and about 0.5 tablespoon. pasta water to dilute the sauce.
Remove from heat and stir in butter, finely chopped parsley and lemon zest. If the sauce seems too thick, add a little more pasta water. Serve immediately, sprinkling with finely chopped parsley over the pasta.
Enjoy!
Also Like
Comments for "Alfredo Pasta in Creamy Cauliflower Sauce"