Pasta with Shrimps in Tomato Sauce
by Editorial Staff
An incredibly fragrant dish that all your family or friends will gladly eat – pasta with shrimps in tomato sauce. The sauce is the most delicious – it absorbs the whole bouquet of flavor notes!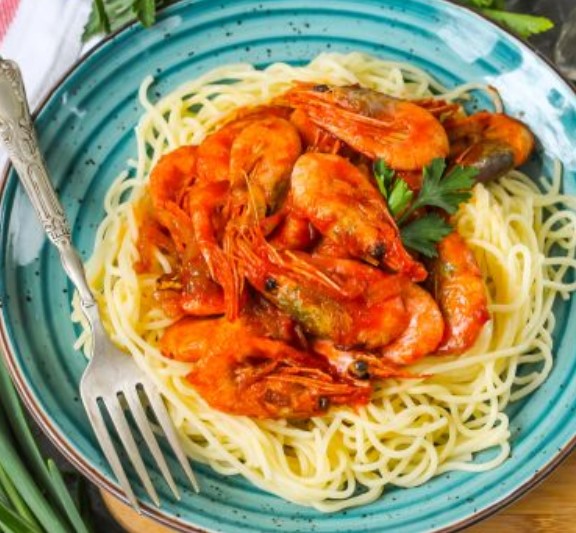 Cook: 15 mins
Servings: 1-2
Ingredients
Shrimp – 250 Grams
Spaghetti – 120 Grams
Tomato paste – 3 tbsp
Vegetable oil – 40 Milliliters
Salt – 3 Pinches
Onion – 1 Piece
Directions
Prepare the indicated ingredients.
Pour water into a cauldron or ladle, salt it and bring to a boil. Put the spaghetti in the water and boil them according to the instructions on the package.
Peel the onions and rinse in water. Cut into small cubes or half rings. Pass the onion slices in vegetable oil for about 2-3 minutes until golden brown.
Layout the shrimps, you can not defrost them in advance. Season with salt and simmer over medium heat for about 3-5 minutes. The shrimp will release liquid and the onion will not burn.

Add tomato paste. If it tastes too sour, add a little granulated sugar. At this stage, you can also add dried ground garlic if you like dishes with a spicy taste.
Simmer everything together for about 3-4 minutes.
Drain the spaghetti and put them on a plate. Top with shrimp in tomato sauce and serve hot.
Optionally add spaghetti to the skillet and stir everything together.
Bon appetit!
Also Like
Comments for "Pasta with Shrimps in Tomato Sauce"