Fettuccine with Minced Meat and Mushrooms
by Editorial Staff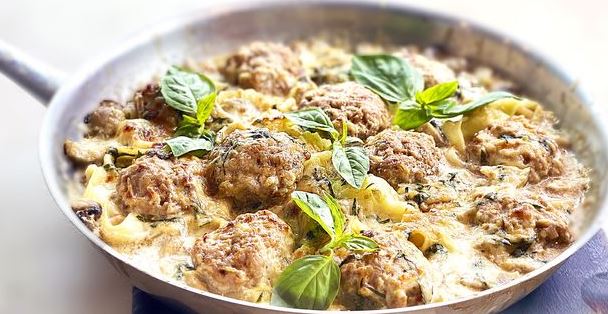 A dish from my childhood – minced meat and pasta in a frying pan. Fettuccine noodles (fettuccine) are cooked with minced meat and mushrooms in a frying pan and then baked with cheese in the oven. Very tasty, fast, and without problems. The hostess is resting, and the whole family falls in love with this dish!
Cook: 10 minutes
Servings: 4
Ingredients
Minced chicken (or other minced meat) – 400 g
Fettuccine (long wide noodles) – 100 g
Champignon mushrooms – 100 g
Hard cheese – 100 g
Cream 10-15% fat – 150 ml
Garlic – 2 cloves
Fresh basil – 5 g (4-5 leaves)
Salt to taste
Smoked paprika – to taste
Ground pepper (pepper mix) – to taste
Seasoning for chicken (or other spices for meat) – to taste
Directions
In a deep frying pan suitable for use in the oven, pour half of the water (about 1.5 liters) and place it on the stove.
Add salt, smoked paprika, meat spices, ground pepper to the minced meat (chicken, pork, or beef) (use your favorite spices and seasonings). Mix the minced meat with spices well.
Cut the mushrooms into quarters. Put fettuccine (fettuccine) nests evenly in boiling water.

Make balls from the minced meat to the size of the rolled noodles. Place the minced meatballs on each fettuccine ball.
Fill the empty spaces between the minced noodles with mushrooms. Cover the pan with a lid and cook the fettuccine with minced meat and mushrooms for 10 minutes. Preheat the oven to 200 degrees.

Grate the cheese. Add grated garlic and chopped basil leaves to the cheese. Sprinkle the minced noodles with cheese in a skillet.
Pour cream over everything and put in a preheated oven for 10 minutes at a temperature of 200 degrees. to form a crust.
A quick dinner is ready!
Bon Appetit!
Also Like
Comments for "Fettuccine with Minced Meat and Mushrooms"