Zrazy with Minced Meat, Mushrooms and Egg
by Editorial Staff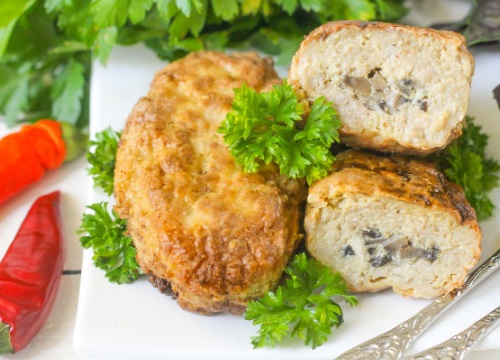 Meat zrazy with mushrooms, onions, and eggs is an incredibly tasty dish. Such cutlets with filling are not prepared very quickly, but you can freeze them at a certain stage of cooking to always have a semi-finished product on hand, which is fried and stewed in about 15 minutes.
Cook: 45 min.
Servings: 6
Ingredients
Minced meat (pork and beef) – 500 g
Bulb onions – 1-2 pcs.
Champignon mushrooms – 300 g
Eggs – 3 pcs.
White bread – 2 slices
Milk – 3 tbsp
Salt – 4 pinches (to taste)
Ground black pepper – 2 pinches (to taste)
Flour (for breading) – 3 tbsp
Vegetable oil (for frying) – 80 ml
Greens (for decoration) – to taste
Minced meat for cutlets is best suited for pork and beef. Hard boil two eggs.
Directions
Peel the onion, cut into small cubes. Cut the champignons into medium cubes (the mushrooms will lose half of their volume when frying).
Preheat a frying pan, pour 30 ml of vegetable oil, heat it, and fry the onions in oil for 2-3 minutes, until transparent. Add the mushrooms to the onion and lightly salt to release the mushrooms. Fry for 10 minutes until golden brown.

Peel the boiled eggs and cut them into small cubes. Add fried mushrooms and onions to the eggs, 1 pinch of salt, and stir gently. The filling for the zraz is ready.

Soak the loaf slices in milk for 2 minutes.
Place the minced meat in a deep bowl, add a raw egg, soaked bread without a crust, add salt and ground black pepper. Mix everything thoroughly with light pressure.
Form a small amount of minced meat into a round tortilla. Put 1 tablespoon on it. l. cooked filling.

Gently pinch the edges of the tortilla to form a stuffed oblong patty. Thus, make all the minced meat zrazy with mushroom filling (if desired, they can be frozen at this stage). Dip the zrazy in sifted flour.

Heat the remaining vegetable oil (50 ml) in a well-heated frying pan and add the meat crayfish. Cook over medium heat on one side for about 3 minutes.
Turn over and fry the zrazy on the other side for 3-4 minutes. Then gently pour some water into the pan, cover, and simmer the meat patties with mushrooms for about 5-7 minutes.

Put the finished minced meat zrazy with mushroom filling on a plate, garnish with fresh herbs and serve hot to the table. Enjoy your meal!
Also Like
Comments for "Zrazy with Minced Meat, Mushrooms and Egg"