Meat Zrazy with Chopped Egg
by Editorial Staff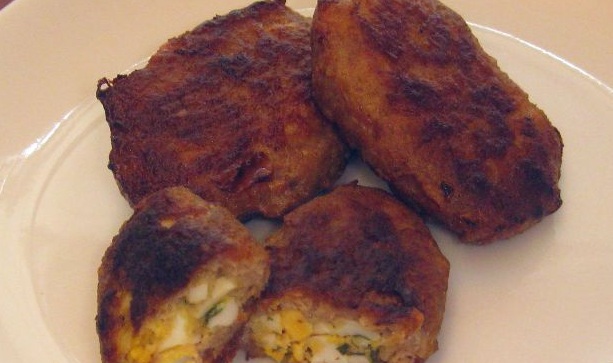 Cutlets are delicious. And zrazy (cutlets with filling) is even tastier! I recommend cooking pork zrazy in the oven, they turn out to be very tender.
Ingredients
Pork – 1.5 kg
Eggs – 3 pcs.
Onions – 100 g
Potatoes – 100-150 g
Salt – 1.5 teaspoon
Ground black pepper – 1.5 teaspoon
Eggs – 7-9 pcs.
Green onions – 1-2 bunches
Mayonnaise – 5-7 tbsp
Vegetable oil for lubrication – 1-3 teaspoon
Directions
Twist the meat, onions, and potatoes in a meat grinder. Add eggs. Mix.
Add salt and pepper. Mix thoroughly again and leave for 30 minutes.
Prepare the filling. To do this, boil the eggs, peel, and chop finely (you can grate).
Wash green onions and chop finely.
Mix eggs, onion, and mayonnaise. Mix.
Separate a tablespoon of minced meat (approx. 60 g). First form a ball out of it, and then a cake. Put a teaspoon of the filling on the cake. Blind the edges, forming a cutlet.

Turn on the oven. Line a baking sheet with high-density baking paper and rub lightly with vegetable oil. Put the prepared meat zrazy with an egg on a baking sheet close to each other.
Bake meat zrazy in the oven at 200-220 degrees for 10-15 minutes. Then take out the baking sheet, turn the zrazy to the other side and cook them for another 10-15 minutes.

Ready-made meat zrazy with egg. Enjoy your meal!
Also Like
Comments for "Meat Zrazy with Chopped Egg"