Meat Zrazy "Bullseye"
by Editorial Staff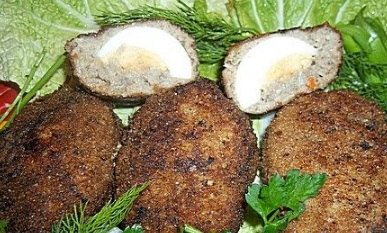 According to the "classics of the genre", zrazy are prepared from chopped meat or minced meat, inside which there is a filling, more often eggs. Today we will have meat zrazy with minced egg.
Ingredients
Minced meat – 1.3 kg
(for minced meat: equal parts beef and pork, onions, garlic)
Chicken eggs – 10 pcs.
Milk (for minced meat) – 100 ml
Breadcrumbs
Vegetable oil for frying
Seasonings, ground, red or black pepper, salt – all to taste
Greens, fresh cucumbers (optional)
The name of the dish itself suggests that first of all, we need minced meat. What kind of meat will be minced does not really matter, but it seems to me that the most optimal will be beef and pork in equal proportions.
I think there is no point in talking about how to make minced meat from pieces of meat. I will only add that for a kilogram of meat you need to scroll at least one hefty head of onions and 4-5 cloves of garlic.
Directions
First, let's put the eggs to a boil, they must be hard-boiled. To be sure of this, the eggs must be boiled for at least 10 minutes after boiling the water. In the meantime, you can do the minced meat, as mentioned above – bring it "to mind." Add seasoning to the minced meat. You can take any seasoning to your taste, they are now in stores with eyes on the run. Also, pepper and salt will go to taste. And break two eggs into the minced meat.
But that's not all. We take a third of a glass of milk, dilute it with warm water to about half a glass and send it there – in the mince.
Now the minced meat must be mixed very thoroughly and this must be done for at least five minutes until the meat absorbs all the moisture and minced meat becomes thick.
While we were doing minced meat, the eggs were already boiled. Fill them with cold water to cool. We clean from the shell and cut each egg in half lengthwise.
You can directly begin to form meat zrazy with an egg. But first, put a frying pan on the fire, let it heat up, and fill it with vegetable oil about a centimeter from the bottom. The oil should also be hot. We proceed as follows: we form a minced meat cake on the palm and put half an egg on it.

And cover with minced meat on top.
We give the "product" the shape of a cutlet, making sure that the egg is evenly covered with minced meat on all sides and rolling from palm to palm. And then roll the meat zrazy in bread crumbs.

We send it to the pan and sculpt the next one. Ideally, there should be enough minced meat for all eggs. But the eggs may be different in size and the minced meat will take more or less. So, all the minced meat zrazy are fried, you need to decide in what form to serve the meat zrazy to the table.

Either with a side dish, or, as an option, in the form of a cold appetizer laid on lettuce leaves and decorated with herbs and fresh cucumbers. Now, at the beginning of spring, you want fresh greens more than ever and it is good for your health. If the meat zrazy with an egg is cut in half, then in the section we will see something that resembles an eye. Hence the name of the dish. True, it does not quite look like a bull's eye (and who paid attention to what kind of eyes a bull has?).
Also Like
Comments for "Meat Zrazy "Bullseye""