Rice Zrazy with Minced Meat, in a Pan
by Editorial Staff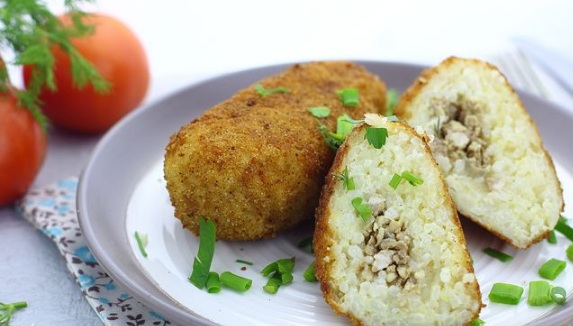 Hearty and tasty, with juicy meat filling and golden brown crust! Cook golden brown rice zrazy with minced meat in a skillet. They can be served as a complete lunch or dinner.
Cook: 45 min.
Servings: 8
Ingredients
Round grain rice – 1.5 cups (380 g)
Minced meat or meat (I have beef and chicken) – 350 g
Onions – 150 g
Hard cheese – 30 g
Eggs – 3 pcs.
Flour – 2/3 cup (80 g)
Breadcrumbs – 2/3 cup (80 g)
Vegetable oil – 100 ml
Salt to taste
Ground black pepper – to taste
Water – 580 ml
Any meat can be used for minced meat, I have chicken and beef. Or buy ready-made minced meat.
Directions
Rinse the rice several times to make the water clear. Transfer the rice to a microwave-safe ovenware (no metal).
Add a little salt, pour in 580 ml of water, and stir. Microwave for 10 minutes at 750 watts. You do not need to cover with a lid. Then remove and mix well the rice. Return to microwave for another 10 minutes. (This kind of rice can be cooked on the stove too, in case you don't have a microwave.)
In the meantime, rinse the meat and pat dry with a paper towel. Cut into medium pieces and chop in a meat grinder.
Peel the onion and cut it into small cubes. Heat about 30 ml of vegetable oil in a frying pan, add chopped onions, and fry for 3-5 minutes over medium heat.
Add minced meat and stir. Fry for 8-10 minutes over high heat, stirring constantly with a spatula.
Then add salt and black pepper, stir. Reduce heat to low, cover skillet, and simmer for 8-10 minutes.
Rice in the microwave cooked perfectly. It is not crumbly, and the grains adhere well to each other. This is the effect we need. Cool the rice slightly.
Grate the cheese on a fine grater. Add one egg and cheese to the cooled rice. Pepper. Stir. The basis for the zrazy is ready.
From the specified amount of rice, you should get about 7-8 times of medium size. Take a portion of the rice mass and spread it into a cake. This is not very easy to do. First, soak your hands a little in water. And hold the rice cake in a damp palm. Place some meat filling in the center of the cake.

Then carefully join the edges of the rice cake over the filling, shaping the patties so that the filling is inside. I must say right away that the workpiece cracks periodically in different places. But do not stop, wetting your hands quite a bit in the water, make a beautiful workpiece all the same. Don't forget, your family is waiting for a delicious lunch or dinner!
Prepare three bowls: a flat plate of flour, a plate of bread crumbs, and a deep plate of lightly beaten eggs (the remaining 2). Gently bread the piece in flour. Do not be alarmed, at this stage the infection can also "crack". Trim the workpiece, sprinkle with flour again.
Then dip it into the egg. Try to dip from all sides. Yes, at this stage it cracked me a little too. Take it in the palm of your hand and give it its original shape.
Dip in breadcrumbs and sprinkle on all sides. In this way, form zrazy from the remaining rice and filling.
Heat the remaining vegetable oil in a skillet. Dip the workpieces into a hot pan. Fry over medium heat until golden brown on one side. Then turn over and fry on the other side for a few more minutes, until golden brown.

Place ready-made zrazy on paper towels to absorb excess oil.
Serve immediately to the table, complementing with sour cream or other sauce, salad from fresh or pickled vegetables. Enjoy your meal!
Also Like
Comments for "Rice Zrazy with Minced Meat, in a Pan"