Rice with Minced Meat
by Editorial Staff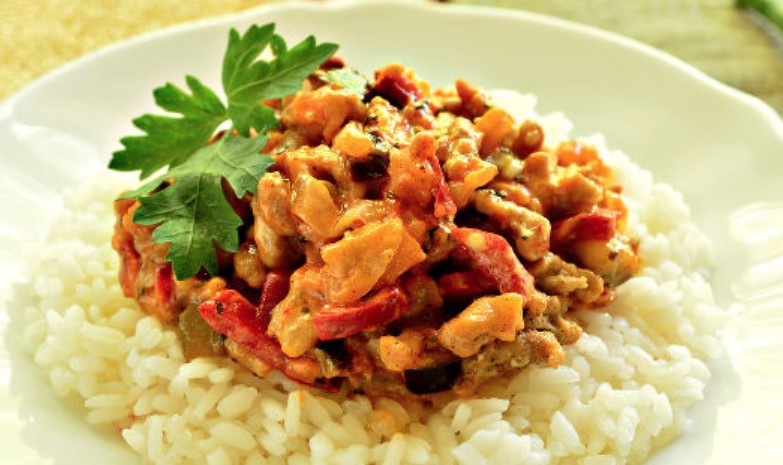 We suggest you cook boiled rice with minced meat and vegetables fried in a pan for lunch or dinner. The dish turns out to be aromatic, satisfying, and mouth-watering.
Ingredients
Rice – 1 glass
Minced meat – 300 g
Eggplant – 1 pc.
Sweet Bulgarian pepper – 1 pc.
Bulb onions – 1 pc.
Tomato sauce – 3 tbsp
Yogurt – 2 tbsp
Vegetable oil – 40 ml
Ground sweet paprika – 1 teaspoon
Dried basil – to taste
Ground black pepper – to taste
Salt to taste
Directions
We prepare the ingredients according to the list. We wash the vegetables. Peel the bell peppers from the seed capsule, onions from the husk.
Boil the rice in water seasoned with salt until tender. For 1 cup of rice, take 2 cups of water.
While the rice is cooking, let's move on to the rest of the ingredients. Finely chop the onion. Cut the eggplant and bell pepper into small cubes.
Pour vegetable oil into the pan and heat it up. Put the chopped vegetables in hot oil.
Fry vegetables over high heat for about 3-4 minutes. In the process of frying, mix the vegetables.
Add minced meat to the fried vegetables. Season the minced meat with spices. We continue to fry the meat with vegetables.

Add yogurt and tomato paste to the ingredients in the pan. We mix. Simmer minced meat with vegetables and sauce over medium heat for about 5 minutes.
Put the finished rice on plates.
In the center of each portion, spread the minced meat with eggplant and pepper on the rice.

We immediately serve rice with minced meat to the table, decorating the dish with sprigs of fresh herbs.
Also Like
Comments for "Rice with Minced Meat"