Cauliflower Rice with Minced Meat
by Editorial Staff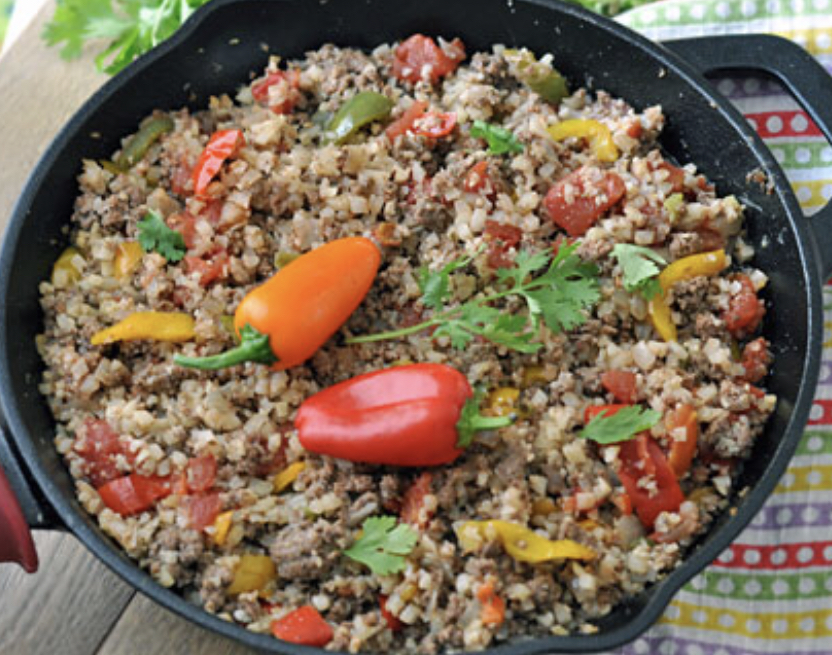 A simple Tex-Mex (Texas-Mexican) style cauliflower rice recipe. This dish is prepared in one pan, fits the Whole30 diet, and is sure to be enjoyed by the whole family. A great option for a quick dinner on a weekday when you want something new. Moreover, it tastes even better the next day when it is warmed up.
Ingredients
ground beef 450 grams
cauliflower 340 grams (chopped into rice, I used frozen)
1 onion (small, finely chopped)
1 cup bell pepper (chopped, I used frozen)
3 cloves garlic (finely chopped)
1 can canned tomatoes (chopped)
cumin 1 teaspoon
paprika 1 teaspoon
oregano 1 teaspoon
1/8 teaspoon cayenne pepper (or more, to taste)
cilantro (for serving)
Directions
Heat a skillet over medium heat, add minced meat, mash with a spatula, add onion and garlic. Cook until pink disappears.
Add cauliflower (pre-divided into inflorescences and grind in a blender to make the consistency of rice) and chopped peppers, cook for 10 minutes until vegetables are tender.

Add tomatoes, cumin, paprika, oregano, and cayenne pepper. Add salt and pepper to taste. Cook for another 5-7 minutes, stirring occasionally. Sprinkle with chopped cilantro and serve.
Enjoy your meal!
Also Like
Comments for "Cauliflower Rice with Minced Meat"