Cauliflower Casserole with Minced Meat
by Editorial Staff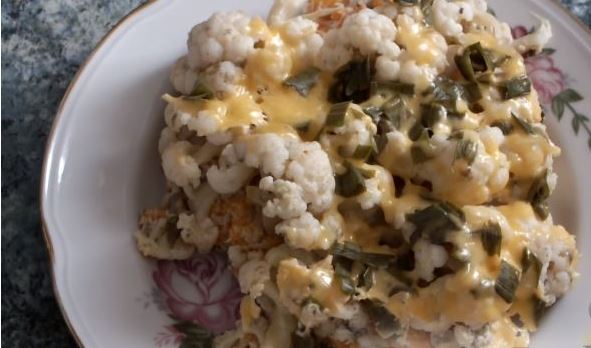 Delicious and appetizing cauliflower casserole with minced meat. I propose to cook a casserole in a slow cooker, which will significantly speed up the cooking process
Cook: 35 minutes
Ingredients
Cauliflower – 1 pc.
Minced meat – 200 g
Chicken eggs – 3 pcs.
Bulb onions – 1 pc.
Carrots – 1 pc.
Hard cheese – 50 g
Green onions – 0.5 bunch
Vegetable oil – 1 tbsp
Salt – 0.75 teaspoon
Spices – 1 teaspoon
Directions
Prepare the ingredients for the minced cauliflower casserole. Peel the onions and carrots. Disassemble cauliflower into inflorescences. To do this, cut the cauliflower into 2 pieces. Then cut off the inflorescences from each half (leave the legs about 2 cm long on the inflorescences). Cut large inflorescences of cabbage lengthwise into several parts.

Finely chop the onion. Place the minced meat in a slow cooker and level. Sprinkle onion on top. Add 0.5 teaspoon salt and 1 teaspoon. spices.
Grate carrots on a coarse grater. Place the carrots on top of the minced meat in an even layer. Then layout a layer of cauliflower, inflorescences up.
Break eggs into a deep bowl, beat with a culinary whisk. Add vegetable oil and salt a little (0.25 teaspoon). Beat well.
Then add flour to thicken the mixture a little. Beat with a whisk until smooth. Pour the contents of the multicooker with the egg mixture. Place the bowl in a slow cooker. Set the "Fry" mode for 10 minutes. Grate hard cheese on a fine grater.
Chop green onions. Sprinkle with herbs and grated cheese on top. After the beep, turn off the multicooker. Leave the cauliflower casserole in the slow cooker with the lid closed for another 10 minutes.

Cauliflower casserole with minced meat (in a slow cooker) is ready.
Enjoy your meal!
Also Like
Comments for "Cauliflower Casserole with Minced Meat"