Pepper with Minced Meat and Rice
by Editorial Staff
Today I would like to share with you a recipe for making pepper with minced meat and rice. Stuffed peppers are easy to cook, the preparation time on average takes 40 minutes.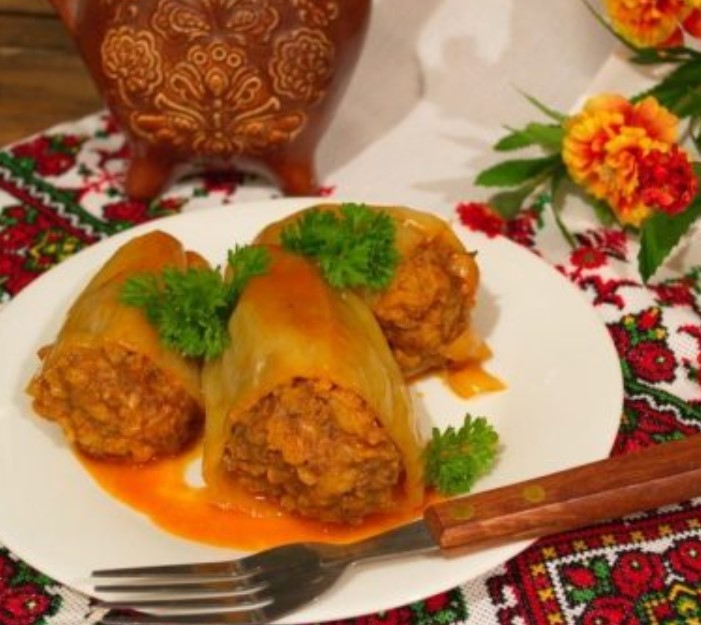 Cook: 1 hour
Servings: 15
Ingredients
Boiled rice – 6 Art. spoons
Minced meat – 1 Kilogram (beef / pork)
Fresh bell pepper – 1.5 Kilograms
Onions – 3 Pieces
Carrots – 2 Pieces
Tomato paste – 2 Tbsp. spoons
Salt, pepper, spices – To taste
Vegetable oil – 50 Milliliters
Directions
Place the minced meat in a bowl. Add lightly cooked rice to the minced meat (rice cooking time 4-5 minutes). Chop the onions. Add it to the container with the rest of the food.
Mix the minced meat with rice and onion well. Pour some water (0.5 cups) into the minced meat. Stir again. Add salt and pepper. Stir again.
Gut the bell pepper seeds. Remove entrails and ponytails. Rinse the inside of the pepper and of course the outside.
Fill each peppercorn with pre-prepared minced meat.

Chop the onions, carrots and leftover peppers. Peeling the pepper left my butt. After removing all the excess, I chopped the pepper pieces into equal small pieces.
Fry onions, carrots and chopped peppers in vegetable oil.
Add tomato paste and some water. Add salt, sugar, spices to taste. Simmer vegetables over low heat for about 10 minutes.
Fold the prepared raw peppers with minced meat into a saucepan. Pour the prepared vegetable mass.
Simmer over low heat for about 1 hour.
Serve to the table, pouring peppercorns with sauce.
Bon appetit!
Also Like
Comments for "Pepper with Minced Meat and Rice"