Stuffed Peppers with Minced Meat and Rice
by Editorial Staff
Surely every housewife cooked stuffed peppers with minced meat and rice – it's very tasty and satisfying. This dish is considered traditional in Bulgarian and Romanian cuisines, but it has also become popular with us.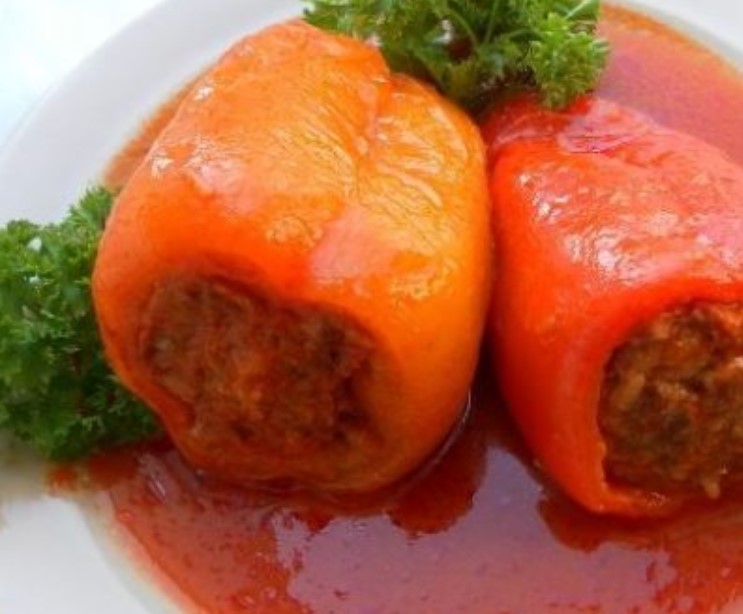 Cook: 2 hour
Servings: 5-8
Ingredients
Bell pepper – 9-13 Pieces (depends on the amount of finished filling)
Minced meat – 0.5 Kilogram
Rice – 1 Glasses
Onions – 2-3 Pieces
Carrots – 2-3 Pieces
Tomato Paste – 50 Grams
Sour cream – 100 grams
Vegetable oil – 30 Grams
Greens – To taste
Salt and Spices – To taste
Directions
The season of fresh vegetables will end soon, so I still want to pamper myself with delicious dishes based on them. I really love to cook stuffed peppers with minced meat and rice in sour cream-tomato sauce.
Boil the rice until half cooked and set aside. Meanwhile, we proceed to the next stage of preparing the filling.
Fry the onions until golden brown and in parallel chop the carrots on a medium grater.
Add carrots and fry until golden brown.

I take minced meat ready-made – it's faster and more convenient. If you have time, twist equal amounts of pork and beef.
Mix the tomato paste and sour cream, adding a little water.
Take the bell pepper and peel it (completely remove the middle and wash it). Now you need to mix the minced meat with rice and roasted onions and carrots. Season the filling with salt and spices to taste.
Send the stuffed pepper to the container in which you will stew it.
I usually put it vertically so that the peppers do not deform during stewing and they remain in their original form. Fill with our sauce and add more water, which should be at least to the middle of the peppers. Ideally, the water should completely cover the pepper.
Simmer stuffed peppers with minced meat and rice for about an hour over low heat.
Serve the dish hot with gravy.
Bon appetit!
Also Like
Comments for "Stuffed Peppers with Minced Meat and Rice"