Pepper Stuffed with Mushrooms and Rice
by Editorial Staff
Delicious vegetarian dish that can be prepared any time of the year. It is also suitable for those who are fasting.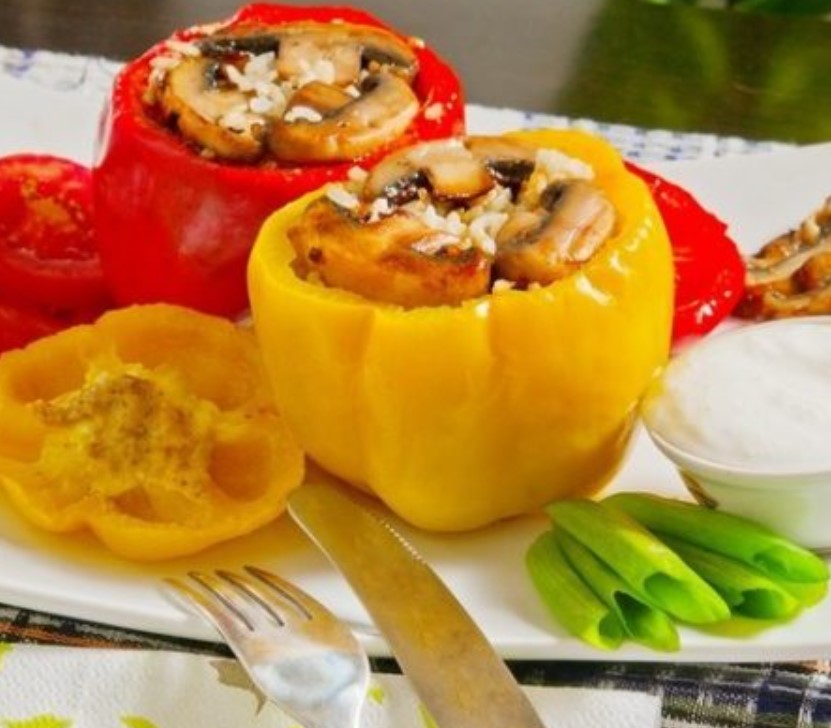 Cook: 1 hour
Servings: 4-5
Ingredients
Bulgarian pepper – 7-8 pieces
Mushrooms – 350-400 Grams
Rice – 100 Grams
Onions – 2 Pieces
Carrots – 2 Pieces
Tomato paste – 2 Tbsp. spoons
Vegetable oil – 3 tbsp
Salt – 1.5-2 Teaspoons
Ground black pepper – 2-3 Pinch
Directions
Boil the rice almost until tender in slightly salted water.
You can take any mushrooms for the dish. We clean them, wash them and cut them into pieces.
We clean the onion, wash it. Cut one onion into cubes, the second into half rings.
We clean the carrots, wash and grate them. Divide the grated carrot into two parts.
Pour 1-2 tablespoons of vegetable oil into a heated frying pan and lightly fry the mushrooms.

Then add diced onion and half of the grated carrots to them. Fry onions and carrots until tender.
Wash the pepper and carefully cut off the top. We remove the seeds. You can blanch the pepper for a few minutes in boiling water. For a regular dinner, the pepper caps can be crumbled and added to the sauce where the peppers will be stewed. And for a festive option – leave them whole and cover the peppers before stewing.
Preparing the filling for the peppers. mix rice and fried mushrooms with onions and carrots.
Salt and pepper. We fill the peppers with the resulting filling.
Now let's start preparing the sauce in which we will stew the peppers. Fry in vegetable oil for 5 minutes onion, cut into half rings, the remaining grated carrots and tomato paste.
We spread the onions with carrots and tomatoes in a saucepan in which we will simmer the peppers. Then we put the stuffed peppers and add water so that it reaches the edge of the peppers. Salt, you can add dry and fresh chopped dill, parsley. Simmer over low heat for 30-40 minutes. Those who do not fast can add sour cream to the sauce.
Bon appetit!
Also Like
Comments for "Pepper Stuffed with Mushrooms and Rice"