Squid Stuffed With Rice and Mushrooms
by Editorial Staff
You can stuff squid with different fillings. It can be vegetables, mushrooms, and various cereals. Today I have rice with fried mushrooms and onions as a filling for squid.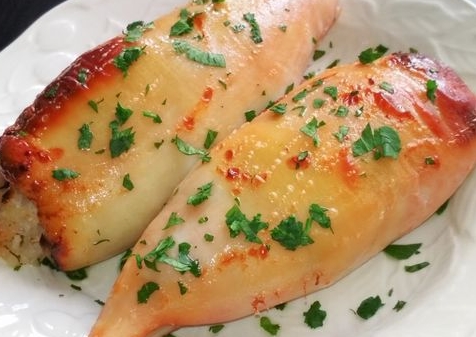 Ingredients
Squids – 6 pcs.
Round grain rice – 1 cup (180 g)
Bulb onions – 1 pc.
Dried mushrooms – 2 handfuls
Olive oil – 2 tbsp
Natural yogurt – 100 ml
Salt to taste
Ground black pepper – to taste
Dried parsley – to taste
Fresh parsley, for serving – to taste
Directions
Soak dried mushrooms in warm water for 1 hour. Then fold over a sieve
Dice the onion.
Scald the squid with boiling water, remove the films and entrails, rinse, cut off the "ears" (I do not use them, I leave them for salad).
Rinse the rice and cook until tender (about 20 minutes after boiling), cool.
Fry mushrooms with onions in olive oil.
Add fried mushrooms with onions, salt, pepper, and dried parsley to the boiled rice. Mix.
Stuff the squid with the rice and mushroom filling.
Place the stuffed squid with rice and mushrooms in a baking dish. Brush the squid with yogurt
Bake the stuffed squid in an oven heated to 200 ° C for about 20 minutes until golden brown.
Baked squid stuffed with rice and mushrooms, sprinkle with finely chopped parsley, and serve.
Enjoy your meal!
Also Like
Comments for "Squid Stuffed With Rice and Mushrooms"