Stuffed Squid
by Editorial Staff
The recipe for making delicious stuffed squid. The dish is hearty, aromatic and undoubtedly very healthy! Such squids will decorate any festive table.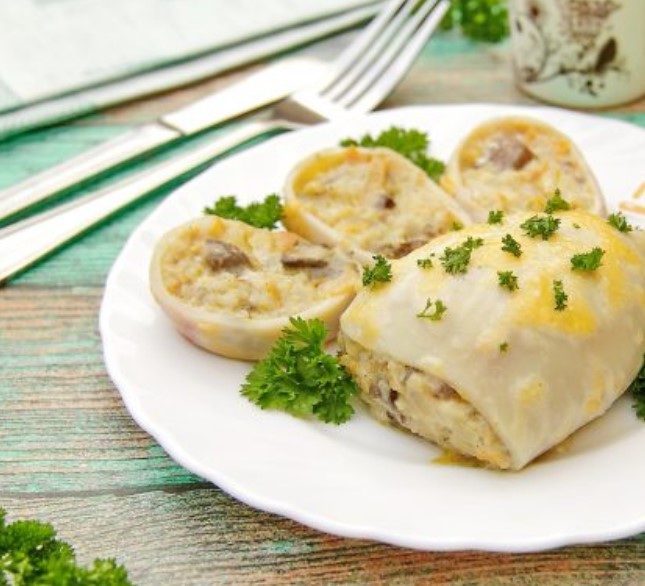 Cook: 1 hour 30 mins
Servings: 4
Ingredients
Squid carcasses – 4 Pieces
Boiled rice – 200 Grams
Mushrooms – 150 Grams (frozen champignons)
Onion – 1 Piece
Carrots – 1 Piece
Cheese – 150 Grams
Sour cream – 100 grams
Salt, pepper – To taste
Directions
Prepare all ingredients.

Cut the onion into cubes and grate the carrots.
Fry vegetables in a skillet until soft.
Add the mushrooms and continue cooking until the liquid evaporates.
Then add the pre-cooked rice, salt and pepper to taste. Stir and remove from heat.
Cool slightly and add 100 grams of grated cheese and 3 tbsp sour cream. Stir everything again. The filling is ready.
Pour boiling water over the squid and immediately fill it with ice water.
Skin the squid by removing the chord and entrails. Cut off the squid tails carefully. You can leave them if you want, but I prefer to delete them.
Fill the squid carcasses with the filling, fasten the edges with a toothpick and place them in a baking dish. I cover the form with foil, but this is not necessary. Grease the bottom with vegetable oil in any case.

Brush the carcasses with the remaining sour cream and sprinkle with the cheese. Bake at 180 degrees for 20 minutes.
The stuffed squid is ready.
Bon Appetit!
Also Like
Comments for "Stuffed Squid"