Stuffed Squid in the Oven
by Editorial Staff
Squids stuffed with minced fish are very juicy and tasty. They can be served both as a main course and as a hot appetizer.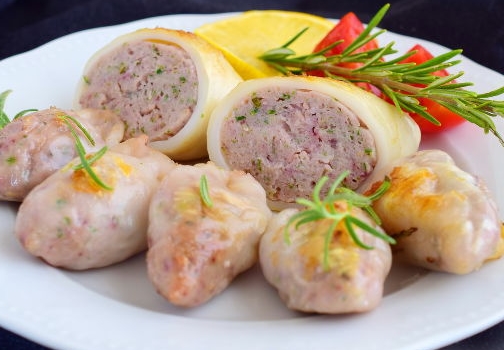 Cook: 1 hour 20 mins
Servings: 4
Ingredients
Squid – 1 kg
Fillet of sea fish – 0.5 kg
Parsley – 20 g
Rosemary – 20 g
Anchovies – 15 g
Chicken egg – 1 pc.
Olive oil – 0.5 tbsp
Salt to taste
Ground black pepper – to taste
For filing:
Lemon – 5 g
Rosemary – 1 sprig
Cherry tomato – 1 pc.
Directions
We will prepare all the products for the stuffed squid. This time I used squids of different sizes, baby squids turned out to be softer and juicier. They can be eaten in portions. But the large squid is well cut and the filling keeps its shape perfectly. It is better to use filleted sea fish. You can also take ready-made minced fish.

Cooking minced meat. Cut the fish fillet into small pieces. Place the fish pieces in a bowl.
Finely chop the rosemary leaves and parsley with a knife.
Add greens to the fish.
Get the anchovies out of the jar, let the oil drain. Add the anchovies to the minced meat.
Chop the tentacles and tails of the squid very finely and also add to the minced meat.
Using a meat grinder or food processor, punch the minced fish until smooth. We drive in the egg, add salt and pepper to taste, remembering that anchovies are a very salty fish. Mix the minced meat again.
We fill the squid carcasses with the resulting minced meat. Try not to tamp the filling too much, during the baking process, the squid will decrease in size and there is a possibility that the squid will burst and the filling will come out. Use toothpicks as a fixer for the ends of the squid.
Grease the baking dish with vegetable oil. We spread the squid in one layer. Lubricate the top of the squid with oil and sprinkle with rosemary leaves. We send the squids into an oven preheated to 190 degrees for 40 minutes if you have small squids.
IMPORTANT: large calamari can be fried in a grill pan on both sides for 3-4 minutes and then baked, adding another 10 minutes to the specified time.

Serve the stuffed squid hot with lemon.
Enjoy your meal!
Also Like
Comments for "Stuffed Squid in the Oven"