Dried Squid (in the Oven)
by Editorial Staff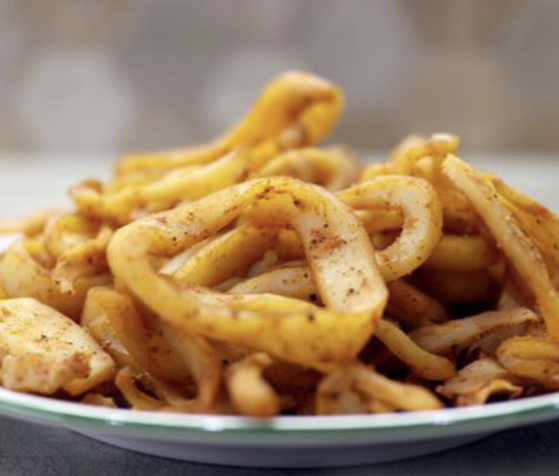 Hello everyone, friends! Today we will cook dried squid at home.
Ingredients
Frozen squid – 1-2 kg
Sugar – 1 tbsp (to taste)
Freshly ground black pepper – 1/2 teaspoon (to taste)
Ground paprika – 1 teaspoon (to taste)
Dry garlic – 1 teaspoon (to taste)
For brine:
Water – 1 l
Salt – 150-200 g
Directions
When buying frozen squid, you need to take into account the water content and shrinkage during cooking by about 2.5 times.
Squids need to be thawed (preferably in the refrigerator), rinsed, peeled from the skin, and the chitinous plate and entrails removed.
Tip: squids are better cleaned if the carcasses are thrown into hot water for 2-3 seconds (80 degrees). Then the skin will curl up and peel off well. After that, all that remains is to rinse the squid.
For salting squid, heat the water a little (up to about 50 degrees) so that the salt dissolves faster. Add salt.
We send the prepared carcasses to the brine for 2-3 minutes, depending on the size of the squid. If the carcasses are small, two minutes will be enough.
Dry the salted squid a little from water and cut it as you like. I cut into rings about 1 cm wide.
If you want to get dried shavings, then the squid will need to be dried whole.
Mix "taste" (spices) in a plate and send to the chopped squid. Mix everything well. You can use any spices you like.
We layout the squid on a baking sheet covered with parchment paper. We send it to the oven to dry at 50-70 degrees (you don't need to check it) for 4 hours. I dried squid for 2 hours 30 minutes at 50 degrees. Then he soaked with paper towels the excess water that the squid had released to make them dry faster. Then he put it back in the oven to dry for another 1 hour and 30 minutes at 50 degrees with convection.
You can also dry the squid in a dryer (I won't tell you exactly in time), or the whole carcasses can be dried on a "rope", like a vobla.
The dried squids are ready. From 600 g of prepared thawed squid, I got 230 g of dried ones.
Make a snack of 2 kg squid right away, as they are eaten quickly.
Enjoy your meal!
Also Like
Comments for "Dried Squid (in the Oven)"