Squid Ceviche
by Editorial Staff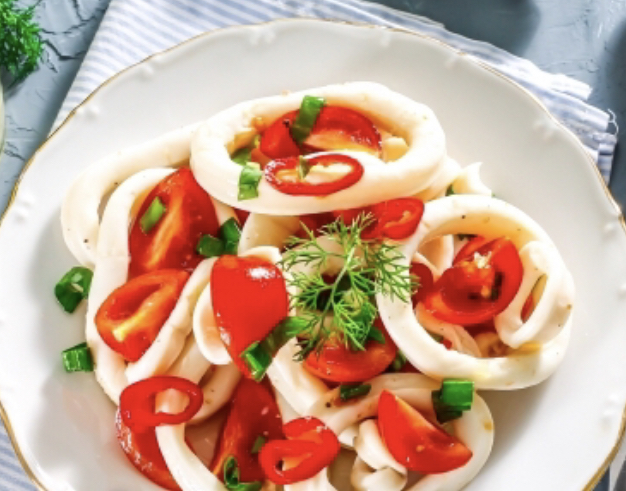 If you are very fond of seafood, then be sure to try the squid ceviche – it's insanely delicious!
Ingredients
Squid – 400 g (frozen)
Lime – 1 pc.
Cherry tomatoes – 4-5 pcs.
Ramson – 5 stalks (15 g)
Salt – 3 pinches
Ground black pepper – 4 pinches
Chili pepper – 0.5 pods
Olive oil – 1 tablespoon
Directions
Place a cauldron or pot of water on the stove and bring it to a boil. Defrost and peel the squid, cut into rings.
Pour a couple of pinches of salt into the water, add the squid rings and boil for exactly 1 minute, but no more, otherwise they will taste rubbery.
Juice 1 lime and season with salt and pepper in a bowl.
Put the boiled seafood rings there, stir. Place in a cool place for 30 minutes and stir every 5-10 minutes. When the rings cool, the marinade will be drawn into itself.
Rinse cherry tomatoes, wild garlic, hot chili peppers. Cut the cherry into quarters, chop the wild garlic. Cut the chili into rings, removing the seeds from it – they are very bitter. Combine everything in a container with salt and ground black pepper, olive oil.
Add pickled rings there. Mix everything gently.
Place the squid ceviche on a plate, garnish with fresh herbs and lime slices, and serve.
Enjoy your meal!
Also Like
Comments for "Squid Ceviche"