Squid Cutlets
by Editorial Staff
Cutlets are usually made from meat, poultry, vegetables, and fish. We offer you a recipe for delicious, tender, and airy squid cutlets.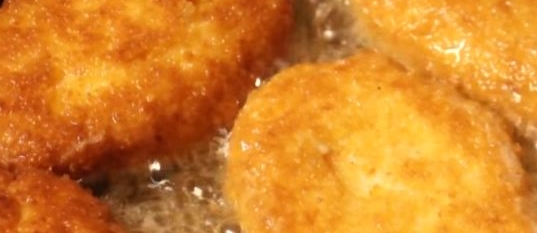 Ingredients
Squid – 400 g
Bulb onions – 1 pc.
Chicken eggs – 2 pcs.
White roll – 50 g
Salt – 0.5 teaspoon
Ground black pepper – 1 pinch
Breadcrumbs
Vegetable oil – for frying
Directions
We prepare products.

Soak 50 grams of a white roll without a crust in half a glass of water.
We pass 400 grams of squid carcasses, one onion and squeezed bread soaked in water and squeezed through a meat grinder with a fine grid.
We separate one yolk from the protein and send it to the minced meat.
Add 0.5 teaspoon of salt, a pinch of pepper and mix well.
Beat the egg white into a light foam.
Add to the minced meat and mix. If the minced meat is liquid, you can add one to two teaspoons of bread crumbs. We put the minced meat for squid cutlets in the refrigerator for 10-15 minutes.
Mix the egg with a pinch of salt and one tablespoon of water, beat gently.
We start frying cutlets. Pour vegetable oil into a pan with a thick bottom. Form the cutlets, moisten in an egg, bread in breadcrumbs.
Fry the squid cutlets over medium heat on both sides until golden brown.
Serve squid cutlets with sauce.
Enjoy your meal!
Also Like
Comments for "Squid Cutlets"