Stuffed Squid
by Editorial Staff
The original recipe for stuffed squid.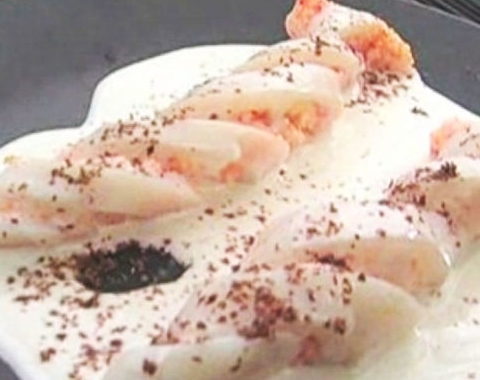 Ingredients
Crab meat (sticks) – 5 pcs.
Steamed young squid (length 10 cm) – 2 pcs.
Coconut milk – 100 g
Mayonnaise – 3 tbsp
Tobiko caviar – 2 tbsp
Grated cocoa – 1 tbsp
Directions
Grind crab sticks.

Add tobiko. Mix.

Add mayonnaise and stir again.
Fill a pastry syringe with crab filling.
Stuff the squid carcasses.
Cut the squid carcasses slightly obliquely into 1.5 cm thick slices. Transfer to a plate.
For the sauce, pour soy milk into the mayonnaise. Stir until smooth.
Pour the sauce over the stuffed squid.
Decorate the stuffed squid by sprinkling it with cocoa.
The stuffed squid is ready. Enjoy your meal!
Also Like
Comments for "Stuffed Squid"