Squid Stuffed with Pumpkin and Rice
by Editorial Staff
We bring to your attention a recipe for an original dish. We will stuff the squid with rice, pumpkin, carrots and hard cheese. We will fill the filling with mayonnaise so that it is not dry. And so that the squids themselves are juicy and tender, we will bake them in sour cream.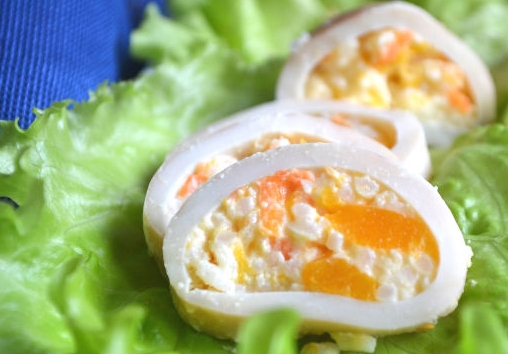 Ingredients
Squids – 4 pcs.
Pumpkin – 50-70 g
Rice – 100 g
Carrots – 1 pc.
Salt to taste
Black pepper – to taste
Mayonnaise – 1 tbsp
Sour cream – 150 g
Lettuce leaves (for decoration)
Hard cheese – 100 g
Tomato (optional, for decoration)
Directions
We prepare products for stuffed squid with pumpkin and rice.

Soak the rice in cold water and change the water a couple of times so that it becomes transparent, then the rice becomes clean and can be cooked. Cook rice in salted water for 15 minutes. We put the finished rice in a colander so that the excess liquid glass.

We clean the squids from the top film. If the squid is frozen, then we put them in boiling water for 30 seconds so that you can easily remove the film. If the squid is not frozen, then we put the carcasses first for 30 seconds in ice water, then immediately in boiling water for 15 seconds to easily remove the film. We remove the chitinous plates and carefully wash the squid carcasses. Put 1 squid in boiling salted water and cook for 4 minutes. After 4 minutes, transfer the carcass to a colander and pour cold water over the squid.
Peel the pumpkin, cut into small pieces and cook for 20 minutes.
Mix rice with finely chopped pumpkin.
Rub the peeled carrots and hard cheese on a coarse grater.
Add carrots and cheese to rice and pumpkin. We fill the filling with mayonnaise, salt and pepper to taste.
Cut the cooled squid carcass into thin rings and add to the filling.
Stuff the squid carcasses with the filling.
We spread the stuffed squid in a refractory form, grease them with sour cream from all sides. We cover the form with foil and cook in the oven for 15 minutes at a temperature of 200 degrees.
After 15 minutes, remove the foil and bake the squid with pumpkin for another 5 minutes.

Decorate the dish with lettuce and, if desired, tomato. The squid stuffed with rice and pumpkin is ready.
Enjoy your meal!
Also Like
Comments for "Squid Stuffed with Pumpkin and Rice"