Stuffed Squid
by Editorial Staff
You can stuff the squid with different ingredients, and each time the taste will be unique. Today mushrooms and cheese will be used as a filling.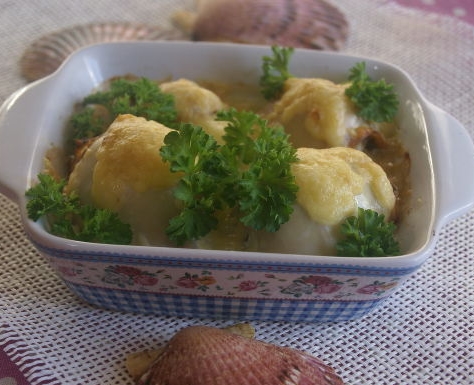 Ingredients
Squid (Pacific) – 4 pcs.
Hard cheese – 100 g
Champignon mushrooms – 8 pcs.
Bulb onions – 1 pc.
Butter – 30 g
Cream – 100 g
Salt
Pepper
Greens (for decoration)
Directions
The first main task is to clean the squid and not damage their tender meat. Do everything carefully. Be sure to remove the guts and pull out the chitinous plate. Then remove the colored and transparent films both inside and outside the shellfish. Rinse under running water.

The next task is not to digest the squid. To do this, dip the carcasses in boiling salted water for just three minutes and, as soon as the squid meat turns white, immediately take it out.

While the squids cool slightly, prepare the filling. To do this, first, chop the onion.
Then chop the mushrooms.
Fry the onion in butter until golden brown.
Add mushrooms to the onion and simmer over medium heat until mushrooms are cooked for 7-10 minutes.
Grate the cheese.
Add it to the mushrooms. Season with salt and pepper. Stir the filling. Leave some cheese for the powder.
Now you can stuff the squid and put them in a bowl in which they will be baked. Top with cream and sprinkle with cheese. Send to a preheated oven with a temperature of 180 degrees for 5-7 minutes until the cheese melts.

The squids are ready. You can treat.
Enjoy your meal!
Also Like
Comments for "Stuffed Squid"