Holliday's Squid Stuffed with Rice and Mushrooms
by Editorial Staff
Delicious, an original, and superficially funny appetizer for the New Year. Stuffed squid in the form of pigs on the New Year's table is perfect for the 2021 meeting.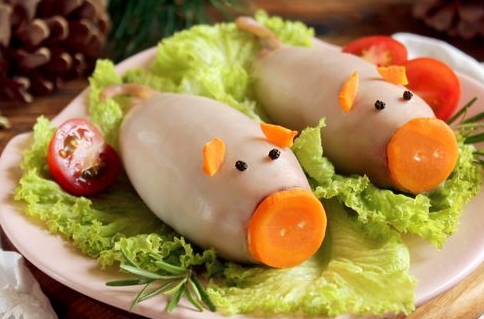 Servings: 2
Ingredients
Squids – 2 pcs.
Rice (raw) – 150 g
Champignons – 100 g
Onions – 1 small or 0.5 medium
Vegetable oil (for frying) – 30 ml
Mayonnaise – 10 g
Carrots – 30 g
Black peppercorns – 4 pcs.
Ground pepper – to taste
Salt to taste
Lettuce leaves (for serving) – to taste
Directions
To prepare a squid snack, take all the products on the list.

Prepare squid. We remove the insides along with the chord. Cut off the tentacles and excess (side) parts of the tail (use them for another dish). We wash the squid carcasses thoroughly.
We put the squid in boiling lightly salted water for just 10 seconds. Cool immediately with ice water.
We clean the squid from a thin film.
For the filling, clean the onion and mushrooms, finely chop. Fry the onions in a pan with heated vegetable oil for 3-4 minutes, until golden brown and transparent. Next, add chopped mushrooms to the pan. Fry for another 5 minutes with high heat and remove from heat.
In a separate saucepan, in a large amount of boiling water (you do not need to salt), cook the rice until cooked (to the extent that it is to your liking). Place the rice on a sieve and cool.
A small piece of carrots for decoration can be especially boiled, baked in foil, or taken from leftover products for salad, jellied meat, or other New Year's dish. The main thing is that the carrots are moderately soft.
Mix the boiled rice with fried mushrooms and onions, salt, and pepper. Let's try. If you love fatter and softer – add a spoonful of mayonnaise.
We stuff the squid, tamping the filling tightly.

Cut out triangles – "ears" and circles – "piglets" from boiled carrots. In the "spots" in the center, we pierce two holes. We attach carrot parts to the squid-pigs, as well as "eyes" from peppercorns, with the help of mayonnaise. We transfer stuffed squid in the form of pigs to lettuce leaves. We arbitrarily decorate a New Year's snack.
Bon appetite!
Also Like
Comments for "Holliday's Squid Stuffed with Rice and Mushrooms"