Noodles with Squid and Mushrooms
by Editorial Staff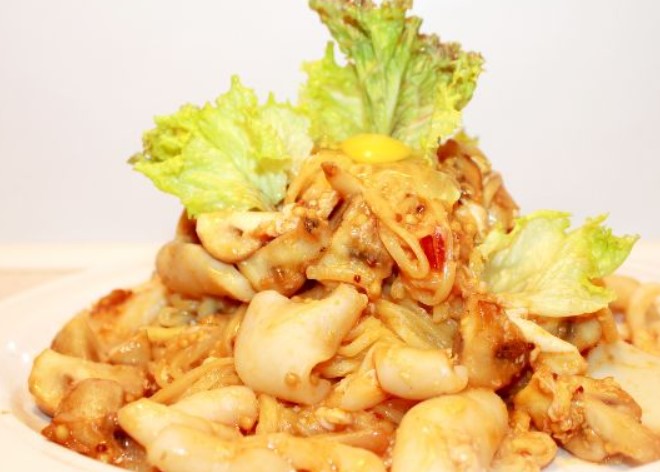 Egg noodles with fried squid and mushrooms, seasoned with an author's sweet and sour sauce – a very tasty dish in a hurry. A simple recipe in 5 minutes!
Cook: 5 mins
Servings: 2
Ingredients
Instant egg noodles (rollton, etc.) – 250 g
Champignon mushrooms (medium-sized) – 10-12 pcs.
Squids (peeled) – 2 pcs.
Vegetable oil for frying – 40 g
Quail eggs – 3 pcs.
Honey (buckwheat) – 1 teaspoon
Soy sauce
Chili sauce
French mustard (whole grain)
Salt
Directions
Preparing the ingredients for making egg noodles with mushrooms and squid.
My mushrooms, cut into 4 parts.
Heat the pan on maximum heat, pour in vegetable oil. Add mushrooms and fry them until golden brown.

In the meantime, chop the squid coarsely and make small cuts on top.
Add noodles to boiling water and cook for 2-3 minutes in salted water, remembering to stir.
Add squid to the mushrooms.
Add soy sauce, a little chili sauce and mustard. Mix and add honey. Squids should be fried no more than 3 minutes, otherwise they will become rubbery and tasteless.
Free the middle in the pan and drive in the quail eggs, stir thoroughly.
Throw the finished noodles in a colander, combine the noodles with mushrooms and squid, immediately mix quickly.

Serve the noodles with squid and mushrooms immediately.

Enjoy your meal!
Also Like
Comments for "Noodles with Squid and Mushrooms"