Fried Squid
by Editorial Staff
Fried squid is a very simple but very effective way to cook squid. Literally 15-20 minutes of business – and delicious squid on your table.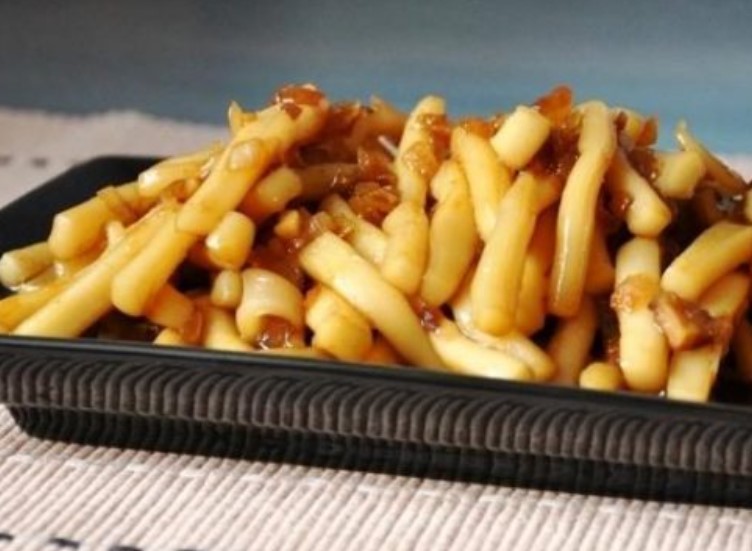 Cook:15 mins
Servings: 3-4
Ingredients
Peeled squid (carcass) – 2 Pieces
Onion – 1 Piece
Ground ginger – 1/3 Teaspoon
Curry – 1/3 Teaspoon
Red pepper – 1/3 Teaspoon
Soy sauce – 5 Tbsp. spoons
Garlic – 3 Cloves
Vegetable oil – 2 Tbsp. spoons
Honey – 1 Teaspoon
Sugar – 1 Teaspoon
Salt – – To taste
Directions
Finely chop the onion and fry in vegetable oil until transparent.
We wash the squid thoroughly and send it to boiling water for 2 minutes, after which we take it out and let it dry.
Cut the blanched squid (this is the so-called) into small pieces for frying. Size – at the discretion, as you like best. I love it the way it is in the photo.
When the onions turn clear, add all our sauce ingredients (soy sauce, honey, spices, chopped garlic, salt and sugar) to the pan. Simmer for a couple of minutes until thickened.

Put the chopped squid in the pan, stir and simmer over high heat for 2-3 minutes, stirring constantly.
Fried squids are ready
Bon appetit!
Also Like
Comments for "Fried Squid"