Zucchini Stuffed with Mushrooms and Rice
by Editorial Staff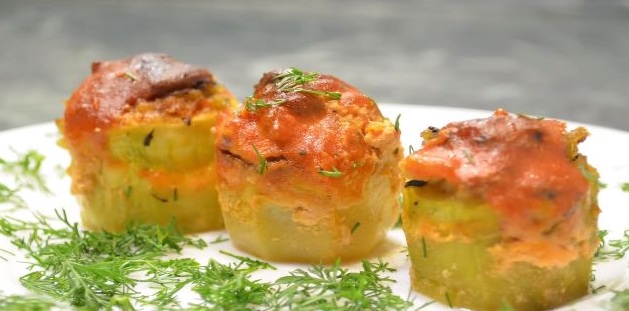 In the summer, each of us wants to pamper ourselves and our family with something unusual and tasty. And zucchini stuffed with mushrooms and rice, cooked in the oven, can become that dish.
Cook: 1 hour 10 min.
Servings: 6
Ingredients
Zucchini – 1 kg
Champignon mushrooms – 500 g
Boiled rice – 100 g
Onions – 200 g
Boiled chicken eggs – 2 pcs.
Sour cream – 200 g
Tomato paste – 0.5 tbsp
Butter – 4 tbsp
Bread crumbs – 2 tbsp
Wheat flour – 1 tbsp
Water – 200 ml
Salt to taste
Ground black pepper – to taste
Directions
Chop the champignons finely.
Chop the onion finely.
Chop the boiled eggs finely.
Fry chopped mushrooms with onions in butter for 5-10 minutes, season with salt and pepper to taste.
Add chopped boiled eggs, boiled rice, salt, and pepper to the cooled vegetables.
Peel the zucchini, cut into round "stumps" 3-5 centimeters high.
On one side of each "stump" remove a part of the pulp, leaving the bottom 1.5-2 centimeters thick.

Breaded the upper part of the "stumps" in flour, place the bottom upside down in a stewpan with heated oil, and fry.

Put the zucchini on a baking sheet with the fried side up, salt, and fill the zucchini with the filling.

Sprinkle the stuffed zucchini with breadcrumbs on top, pour with melted butter. Bake stuffed zucchini with mushrooms and rice in the oven preheated to 190 degrees Celsius.
Mix sour cream with tomato paste.
When the zucchini is browned, pour over them with a mixture of sour cream and tomato paste. Then pour water into a baking sheet and cook the stuffed zucchini in the oven for 30 minutes at the same temperature.

Zucchini stuffed with mushrooms and rice are ready. Bon Appetit!!!
Also Like
Comments for "Zucchini Stuffed with Mushrooms and Rice"