Squid Stuffed with Crab Salad
by Editorial Staff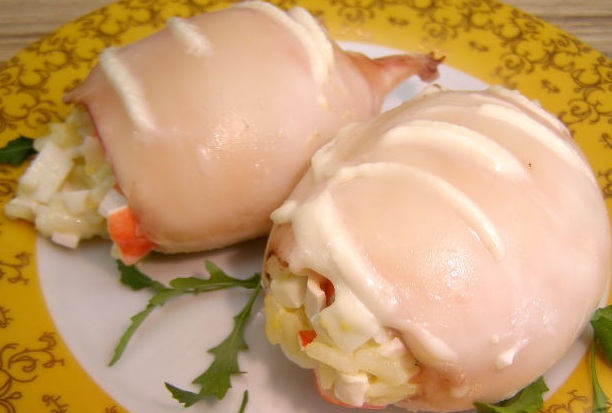 The dish turned out to be universal. Stuffed squid can be served as an unusual portioned salad, or you can bake it – we get the most delicate hot snack.
Servings: 4
Ingredients
Squids – 4 pcs.
Crab sticks – 100 g
Eggs – 2 pcs.
Boiled rice – 100 g
Mayonnaise – 3 tbsp
Salt – 1 pinch
Directions
Prepare squid carcasses. Frozen carcasses must be thawed. Remove the skin if necessary. Then boil 1-1.5 liters of water, add a pinch of salt and boil the squid carcasses for 30-40 seconds.
Hard-boiled eggs, peel, and chop finely.
Finely chop the crab sticks.
Combine rice, crab sticks, and eggs. Add 2 tablespoon. tablespoons of mayonnaise and mix thoroughly.
Stuff the prepared carcasses with crab salad. Garnish the stuffed squid with mayonnaise on top. The squids stuffed with crab salad are ready. They can be refrigerated and served. But you can serve baked stuffed squid as a hot appetizer. To do this, the squid carcasses must be laid in a mold or in foil. Do not cover. Preheat the oven to 190 degrees. Bake the squid in the oven for 10-15 minutes.

Ready stuffed squid. Bon Appetit!
Also Like
Comments for "Squid Stuffed with Crab Salad"