Sun-Dried Tomatoes in the Oven
by Editorial Staff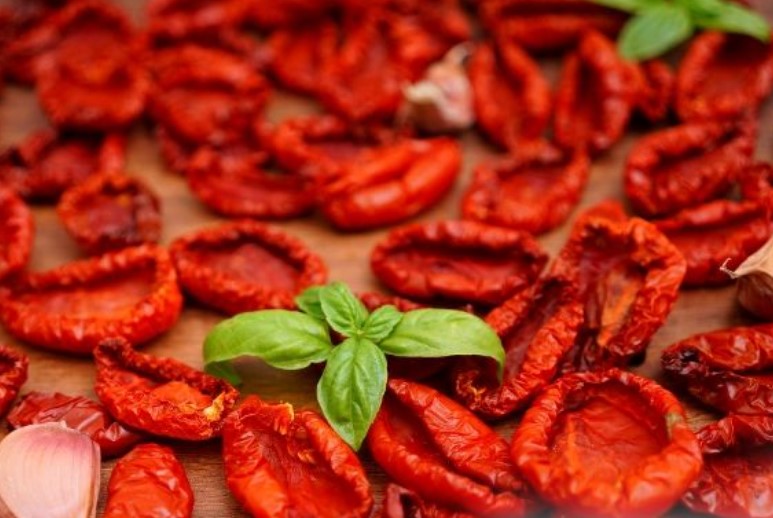 Tomato dried is the traditional method of harvesting tomatoes in Italy. Only in Italy and other Mediterranean countries are they dried in the sun. In our area, you will have to use a dryer or dry tomatoes in the oven. Sun-dried tomatoes have a very rich, concentrated tomato flavor.
Cook: 8 hours
Ingredients
(for a 0.5 liter jar)
Tomatoes – 2 kg
Vegetable oil – about 200 ml
Dried basil – 0.5 teaspoon
Dried oregano – 0.5 teaspoon
Dried garlic – 0.5 teaspoon
Black peppercorns – 8 pcs.
Allspice peas – 3 pcs.
Fresh garlic – 1 clove
Fresh basil – a few leaves
Balsamic or wine vinegar (optional) – 1 tbsp
Salt to taste
Directions
For drying, choose firm, fleshy varieties of tomatoes, such as cream tomatoes or Solaris. Cut the tomatoes into halves or quarters, take out the watery center with seeds and cut the stalk.

Place prepared tomatoes, cut upwards, on a parchment-lined wire rack (you can grease the parchment with oil). Salt.
Dry the tomatoes in the oven at 100 degrees, in the "Upper Grill" mode with convection, for about 6-8 hours with the door ajar to allow moisture to escape.
Send peppercorns to the bottom of the jar, put the tomatoes in the jar, add chopped garlic, basil leaves, sprinkle with dried spices and pour the tomatoes in the jar with vegetable oil to the top. Sun-dried tomatoes prepared in this way will be stored in the refrigerator for about 2 weeks. Please note! To keep sun-dried tomatoes as long as possible, do not add fresh garlic and basil!
For the longest possible storage of sun-dried tomatoes it is necessary to: – sterilize the jars; – pour tomatoes with hot oil; – add 1 tbsp vinegar in a 0.5-liter jar (preferably balsamic or wine, but in the absence of, you can add ordinary table vinegar); – do not add raw garlic and fresh basil (with them tomatoes may start to "plump" ahead of time); – put jars of sun-dried tomatoes filled with oil in a cold oven and sterilize for 20 minutes at 100 degrees, then gently take out, wrap with a towel or a blanket and leave to cool in this form.
Sun-dried tomatoes are ideal for savory pastries, soft cheese sandwiches, pizza, and various salads.
Bon Appetit!
Also Like
Comments for "Sun-Dried Tomatoes in the Oven"