Gouges with Sun-Dried Tomatoes
by Editorial Staff
Gougères (fr. Gougères) – French savory buns made from choux pastry with cheese. Sun-dried tomatoes can be used as an additional addition to the dough. Cheese custard buns go well with tea or coffee, as well as white wine or champagne. Gouges are served during wine tasting, as well as an appetizer or addition to other dishes.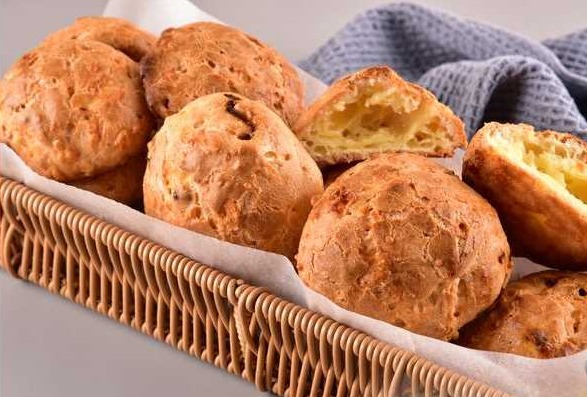 Servings: 5
Cook: 50 minutes
Ingredients
Butter 82% fat – 50 g
Hard cheese – 60 g
Sun-dried tomatoes – 20 g
Eggs – 100 g (2 pcs.)
Water – 100 ml
Flour – 65 g (1/2 cup 200 ml)
Ground nutmeg – 1 pinch
Sugar – 1/4 teaspoon
Salt – 1 pinch
Directions
Sift flour in advance.
Cut the butter into pieces into a saucepan, pour in water, add salt and sugar.
Bring to a boil over low heat and add all the flour in one go.

Stir vigorously with a wooden spoon for about two minutes, remove from heat and cool slightly (to a temperature at which the eggs will not curl).
Add eggs to the still hot dough, one at a time, stirring vigorously each time until smooth.
Grate the cheese on a medium grater.
Finely chop the sun-dried tomatoes with a knife.
Add cheese and tomatoes to the dough. Also add ground nutmeg.

Mix well.
Turn on the oven to heat up to 200 degrees.
Line a baking sheet with baking paper.
Transfer the dough to a pastry bag, cornet or bag with a cut corner.
Place the dough on a baking sheet in portions the size of a walnut at a distance from each other. Bake gouges with sun-dried tomatoes at 200 degrees for 25 minutes without opening the oven.
Bon Appetit!
Also Like
Comments for "Gouges with Sun-Dried Tomatoes"