Zrazy with Minced Meat and Cheese
by Editorial Staff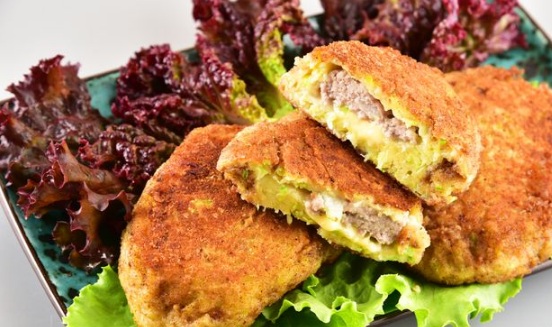 In the summer season, prepare unusually yet easy-to-make zucchini zraz. Use minced meat and cheese for the filling. The result is delicious: crispy zucchini crust, juicy minced meat, and melted cheese.
Cook: 40 min.
Servings: 6
Ingredients
Zucchini – 450 g (1 pcs.)
Minced pork and beef – 150 g
Hard cheese – 70 g
Onions – 50 g (1 pcs.)
Eggs – 1-2 pcs.
Flour – 1-1.5 cups (160-240 g)
Salt to taste
Freshly ground black pepper – 2 pinches
Bread crumbs – 150 g
Vegetable oil (for frying) – 50 ml
Any mince can be used. I have homemade pork and beef. If the squash is old, remove the skins and seeds.
Directions
Wash the zucchini, cut off the ends. Grate the zucchini on a coarse grater, squeeze out a little (if the zucchini is very juicy). Drive an egg into a bowl of zucchini (if the zucchini is dry, then 2 eggs). Add salt and a pinch of pepper. Add 1-1.5 cups flour (depending on the juiciness of the zucchini). Mix well. The dough should be thick enough so that zrazy can be formed from it.

Peel, wash, and chop the onion. Add the onion to the minced meat, season with salt and pepper. Mix the minced meat thoroughly.

Cut the cheese into cubes. Form a flat cake from the squash dough. Put some minced meat and a slice of cheese in the middle. Connect the edges of the dough and form a zraz, roll it in breadcrumbs. In the same way, form zrazy from the remaining dough, minced meat, and cheese.

Put the zrazy in a frying pan preheated with vegetable oil. Fry on each side for 3 minutes, until golden brown.

Then put the zrazy in a frying pan, pour in 45-60 ml of water (3-4 tablespoons), and simmer under the lid for 8-10 minutes. Turn over and cook for another 3-4 minutes, until all the liquid has evaporated.

Zrazy squash with minced meat and cheese can be served with fresh herbs. Enjoy your meal!
Also Like
Comments for "Zrazy with Minced Meat and Cheese"