Meat Zrazy with Champignons
by Editorial Staff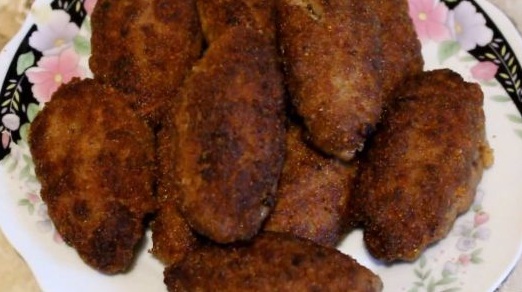 Meat cutlets can be cooked with various fillings, I recommend the recipe for meat zrazy with mushrooms.
Ingredients
Beef – 500 g
Pork – 200 g
Champignon mushrooms – 200 g
White bread (stale) – 150 g
Bulb onions – 2 pcs.
Salt to taste
Ground black pepper – to taste
Ground coriander – to taste
Bread crumbs – how long will it take
Vegetable oil – for frying
Directions
The first step is to prepare the minced meat. Soak the bread in warm water. Peel and wash the onion. Cut the meat and one onion into small pieces, twist through a meat grinder. Add bread to the minced meat, having previously squeezed it well from the liquid. Season with salt and pepper. Beat the minced meat well with your hands.
Finely chop the mushrooms and the second onion. Fry in vegetable oil, pepper, add coriander and salt if desired. The mushroom filling is ready for zraz.
Divide the minced meat into 13 equal parts.
Take a meatball and flatten. Place 0.5 teaspoon of mushroom filling in the middle. Form the meat cutlet so that the filling is inside.

Dip the meat zrazy with mushrooms in breadcrumbs and put in a pan with hot vegetable oil. Cover and fry the minced meat patties for about 2 minutes on each side, until golden brown.

Meat zrazy with mushrooms are ready. Serve meat zrazy with hot mushrooms, mashed potatoes, or any other side dish. Enjoy cooking!
Also Like
Comments for "Meat Zrazy with Champignons"