Champignons Stuffed with … Champignons
by Editorial Staff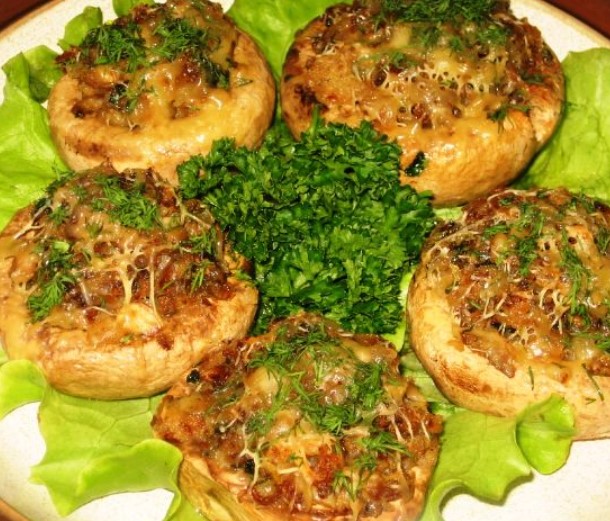 A very tasty dish cold as an appetizer and warm as a main course, especially with potatoes.
Cook: 1 hour
Servings: 4
Ingredients
Champignons (choose large mushrooms) – 500 g
Bulb onions – 0.5 pcs.
White crackers, grated – 2 tbsp
Chopped parsley and dill – 2 tbsp
Sour cream – 1-2 tbsp
Vegetable oil – 1 tbsp
Salt to taste
Ground black pepper – to taste
Mushroom seasoning – to taste
Hard cheese, grated – 2 tbsp
Directions
Peel the onion, wipe the mushrooms with a damp cloth.
Separate the legs and chop them finely. Chop greens and onions finely. Boil the champignon caps in salted boiling water for 7-10 minutes, remove and put on a plate with the cap up, so that excess water flows out.
Fry the onions in oil, add the chopped mushrooms and fry, stirring occasionally, for 5 minutes. Add crackers and fry for 2 minutes. Add sour cream, salt, pepper, season to taste. Add greens and mix well.

Stuff the mushroom caps with the prepared mixture, put on a baking sheet (you can cover it with foil), sprinkle with cheese on top. Pour 100-150 ml of water, in which the mushrooms were cooked, onto a baking sheet (then the mushrooms will not be dry). Put the baking sheet in the oven, preheated to 180-190 degrees, and bake the stuffed mushrooms in the oven for 30 minutes.
Sprinkle ready-made stuffed mushrooms with herbs.
Enjoy your meal!
Also Like
Comments for "Champignons Stuffed with … Champignons"