Champignon Ragout
by Editorial Staff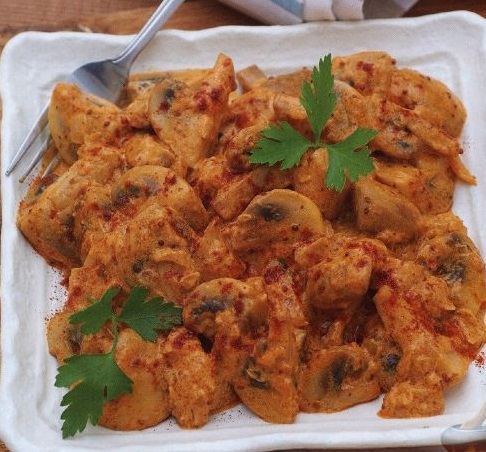 Champignon ragout will perfectly complement a meat dish or can be served as a separate vegetarian.
Ingredients
Champignon mushrooms (sliced) – 6.5 cups
Tomato paste – 1 teaspoon
Coarse mustard – 1 teaspoon
Sour cream – 2/3 cup
Butter – 2 tbsp
Onions (finely chopped) – 1 pc.
Paprika – 1 teaspoon
Salt to taste
Ground black pepper – to taste
Fresh parsley for garnish
Directions
Heat butter in a large skillet over medium-high heat. Pour the onion into the pan and fry, stirring occasionally, until soft, 5-10 minutes.
Put the mushrooms in a frying pan with onions, fry over high heat, stirring occasionally, for about 3-4 minutes.
Add tomato paste and mustard into a pan with mushrooms, then add sour cream, cook, stirring occasionally, for about 5 minutes.
Sprinkle the mushrooms with paprika, salt and pepper.
Serve the mushroom stew on a serving plate, garnish with parsley and a little more paprika.
Also Like
Comments for "Champignon Ragout"