Zrazy with Pork Meat
by Editorial Staff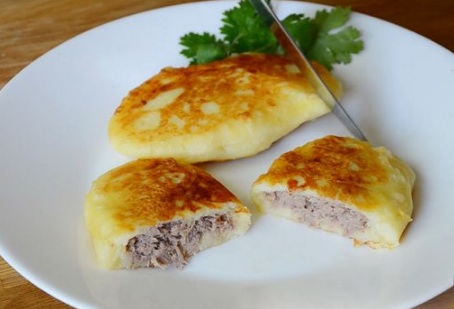 This dish is called zrazy with meat.
Ingredients
For the test:
Potatoes – 1 kg
Egg – 1 pc.
Flour – 160 g (1 glass of 250 ml) + for working with dough
Salt – 0.5-1 teaspoon
For filling:
Boiled meat (pork) – 300 g
Meat broth – 4 tbsp
Salt – 0.5 teaspoon
Ground black pepper – 0.5 teaspoon
For frying:
Directions
Grind the pre-cooked meat (I have a pork neck) using a meat grinder. Add broth, black pepper, and salt to the minced meat. Mix well so that the salt and pepper are evenly distributed throughout the filling.
Cooking the dough. Boil the potatoes until tender. Mash the boiled potatoes in mashed potatoes and cool. Add the egg to the cold mashed potatoes and salt to taste.
Add flour. Knead the dough and knead well. The dough is moderately sticky.
Sprinkle the hands with flour. Measure out a portion of the dough with a tablespoon and flatten it into a cake in the palm of your hand. Put the meat filling in the middle of the cake.

We form the cardholder according to the principle of a pie.

Dip the zrazy in flour, shake off the excess flour. This is how we form all the gophers.
Heat the oil in a frying pan and fry the zrazy with meat over medium heat for 2-3 minutes on each side.

Zrazy with meat is ready! They are served with sour cream or mushroom sauce!
Also Like
Comments for "Zrazy with Pork Meat"