Potato Zrazy with Minced Pork and Beef
by Editorial Staff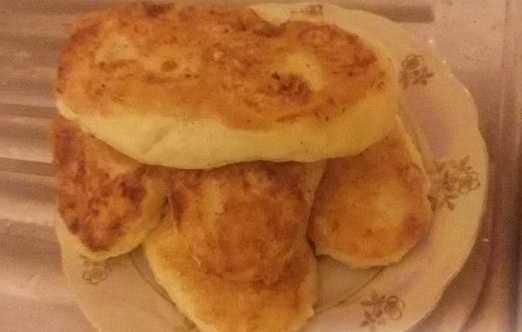 I make zrazy from ready-made puree, even if it is leftover from yesterday, because, as a rule, we don't eat mashed potatoes the next day. Any mince can be used, pork and beef or even liver. I use the ingredients by eye.
Cook: 15 min.
Servings: 2
Ingredients
Mashed potatoes – 500 g
Minced pork and beef – 250 g
Egg (for rolling) – 1 pc.
Flour (for rolling) – 0.5 cups
Vegetable oil for frying
Sour cream for serving
Directions
We take ready-made puree and fried minced meat! I think you can make mashed potatoes and minced meat yourself.
Beat the egg.
Pour flour on the table.
Roll the hand in flour and take a spoonful of mashed potatoes, knead (you can do this on the table, the main thing is that the table is in flour).
Put the minced meat on the puree.

Put mashed potatoes on top.
We form a pie.
So we form the rest.
Roll the finished zrazy in an egg and immediately put it in a frying pan.
We fry the zrazy until golden brown, we use all the ingredients ready-made, so you don't have to worry that the zrazy won't be fried. Turn the zrazy with a spatula.

We spread the potato zrazy on a plate. We serve zrazy with sour cream! Bon Appetit!
Also Like
Comments for "Potato Zrazy with Minced Pork and Beef"