Potato Zrazy with Minced Meat and Cheese (in a Grill Pan)
by Editorial Staff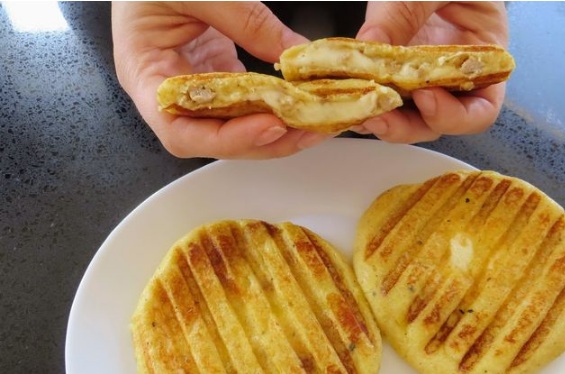 No bread sandwiches or another delicious breakfast idea! The main products are potatoes, minced meat, and some cheese. It is easy and simple to prepare, but it turns out appetizing and delicious!
Ingredients
Potatoes (boiled) – 750 g
Salt to taste
Ground black pepper – to taste
Egg – 1 pc.
Bread crumbs (fine grinding) – 50-70 g
For filling:
Minced meat – 200 g
Bulb onions – 1 pc.
Garlic – 1-2 cloves
Hard cheese – 50 g
Salt to taste
Ground black pepper – to taste
Vegetable oil – for frying
Directions
Mash hot potatoes in mashed potatoes. As soon as it cools a little, add salt, ground pepper, and an egg. Stir until smooth.
Add the breadcrumbs. Depending on how watery or starchy the potatoes are, add the required amount of crackers. Mix everything well.

Now we are preparing the filling. In a small amount of oil, heat the chopped garlic for just a few seconds for the aroma to go. Add the diced onion. Fry until golden brown.
When the onion is golden, send the minced meat to the pan. Season with salt and pepper (or your favorite spices) to taste and fry until tender, 10-15 minutes. Cool a little.

Form a small cake from the potato "dough". Put the minced meat and some grated cheese in the center of the cake. (By the way, you can use any filling: the sausage that you have left, boiled chicken, or a baked piece of meat – cut and use for the filling. The only thing is that the filling must be ready.)

Form another flat cake from the potatoes and cover the filled flat cake with it. We fasten the edges well. We do this with all the potato mass and filling.

Fry potato zrazy in a pan with a little vegetable oil on both sides until a delicious crust. (Today we use a grill pan for frying.) Just wait for the cheese to melt, and we no longer cook.
The zrazy turned out great, you can go to the exhibition!

Serve hot zrazy straight from the pan. Fragrant, beautiful, and delicious!
Also Like
Comments for "Potato Zrazy with Minced Meat and Cheese (in a Grill Pan)"