Potato Zrazy with Cabbage
by Editorial Staff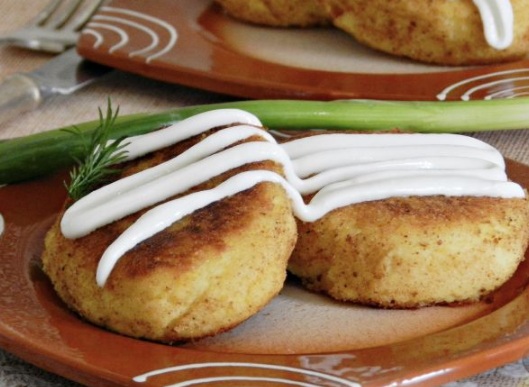 Potato zrazy with cabbage is very tasty and tender. Potato zrazy cooked according to this recipe tastes like everyone's favorite cabbage pies.
Cook: 40 min.
Servings: 3
Ingredients
Potatoes – 800 g
Sauerkraut (or fresh) – 300 g
Bulb onions – 1 pc.
Egg – 1 pc.
Flour – 1-2 tbsp
Bread crumbs – 3-4 tbsp
Salt to taste
Ground black pepper – to taste
Vegetable oil – for frying
Fresh cabbage can be used as a filling.
Directions
Peel the potatoes, add water, and put on fire. When the water boils, season with salt, reduce the gas, and cook the potatoes until tender.
Peel the onion and cut it into cubes.
Fry the onions in vegetable oil until golden brown.

Add cabbage to the onion. Stir, pepper a little, and simmer until the cabbage is soft, 10-15 minutes.

Transfer the finished cabbage to a bowl.
Mash hot potatoes in mashed potatoes and leave to cool.
Drive an egg into the cooled potatoes, mix.

Then add flour. Mix everything well so that the mashed potatoes for the zraz are homogeneous.
Spread cling film on a cutting board. Spoon the mashed potatoes, knead them into a cake. Put the cabbage filling on top.

Roll up the zrazy using the film.
Dip potato zrazy with cabbage on all sides in breadcrumbs.

Heat oil in a frying pan and fry the potato zrazy with cabbage, first on one side. Then turn over and fry on the other side.

Serve hot potato zrazy with cabbage, with sour cream. Enjoy your meal.
Also Like
Comments for "Potato Zrazy with Cabbage"