Potato Zrazy with Mushrooms
by Editorial Staff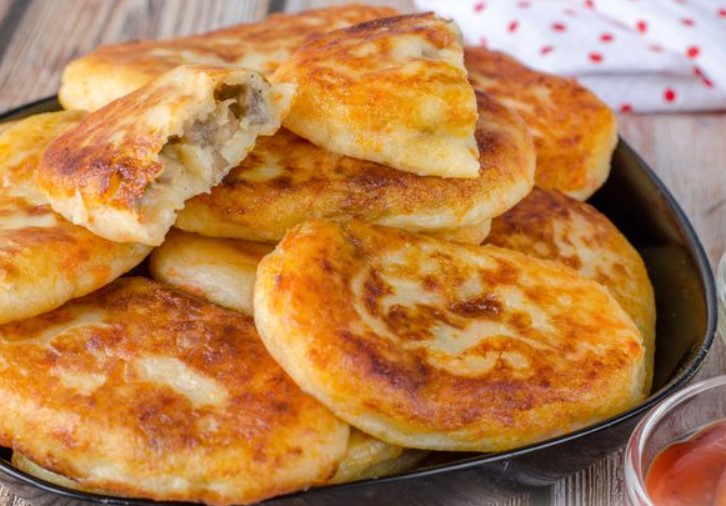 A very appetizing homemade dish – potato zrazy with mushrooms. Ruddy, tender, juicy, stuffed with mushrooms … Such zrazy will delight the whole family! Be sure to cook.
Cook: 2 hours
Servings: 5
Ingredients
Potatoes – 1.5 kg
Carrots – 200-300 g
Champignons – 500 g
Onions – 100 g
Flour – 6-7 tbsp + for dust
Salt to taste
Ground black pepper – to taste
Vegetable oil – for frying
Directions
We prepare products.

Peel and cut the potatoes into large slices.
Peel the carrots and cut into smaller slices than potatoes.
Rinse the chopped vegetables, fill with water and put on heat. After boiling, reduce heat to minimum and cook potatoes and carrots for about an hour. Salt during cooking.
Peel the onion and cut into cubes
Rinse the champignons and cut into cubes.
Pour vegetable oil into the pan (2 tablespoons) and simmer the mushrooms and onions for 10-15 minutes. In the process of stewing, salt and pepper.
We put the mushrooms and onions in a colander. The filling for the zraz is ready.

Drain all the liquid from the potatoes and carrots.
Using a pusher, knead mashed potatoes with carrots. Let cool until warm.
On a table covered with flour, spread the mashed potatoes, add flour and knead the dough.
Tear off a piece from the dough, form a cake slightly larger than the palm of your hand. We constantly dust our hands and table with flour
Put the mushroom filling on the cake, about 1 teaspoon.
Squeeze the palm and pinch the edges.
We form oval zrazy.

We do this with all the potato dough and mushroom filling. I got 23 filled patties. We put potato zrazy with mushrooms on the surface, abundantly sprinkled with flour
Pour oil into the pan, heat it up and fry the zrazy for 3-5 minutes on each side
Serve potato zrazy with mushrooms with sour cream or your favorite sauce.
Enjoy your meal!
Also Like
Comments for "Potato Zrazy with Mushrooms"