Chicken Zrazy with Mushrooms
by Editorial Staff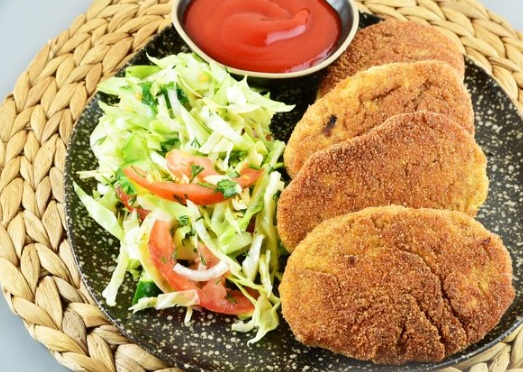 An interesting version of meat zraz with mushroom filling. Zrazy according to this recipe is made from minced chicken with the addition of grated potatoes, and the mushroom filling is fried with onions. Chicken zrazy with mushrooms are fried in a breading that helps to preserve the juiciness inside, and are very tender and aromatic – garlic and nutmeg are responsible for this.
Cook: 60 min.
Servings: 5
Ingredients
Chicken fillet – 500 g
Potatoes – 2 pcs. (200 g)
Champignons – 150 g
Egg – 1 pc.
Bulb onions – 2 pcs. (150 g)
Bread crumbs – 70 g
Garlic – 2 cloves
Salt to taste
Ground black pepper – 1 pinch
Ground nutmeg – 1/4 teaspoon
Vegetable oil (for frying) – 100 ml
Directions
Rinse the chicken fillet and dry it with paper towels.
Peel and finely chop the onion.
Wipe the mushrooms with a damp kitchen towel and cut into small cubes.
In a frying pan with vegetable oil, fry half of the chopped onion until golden.
Add mushrooms to the pan to the onion.
Fry the mushrooms and onions until the liquid evaporate completely.
Grind the chicken fillet with a meat grinder or blender into a homogeneous mince.
Grate the potatoes on a fine grater and add to the minced meat.
Add the remaining onion, garlic, egg, salt, ground pepper, and nutmeg to the bowl with the minced meat.
Mix the minced meat thoroughly.
Spread the breadcrumbs evenly on a plate. Form a small cake out of minced meat and put it on crackers. Put 1 teaspoon of the filling in the middle of the cake.

Let's form a second minced meat cake and cover the filling with it. Gently connect the minced meat cakes together so that the filling remains inside. Let's give the workpiece an oval shape and roll in breadcrumbs on all sides. In the same way, we will form zrazy from the remaining minced meat and filling.
Put the zrazy in a pan with heated vegetable oil. Fry the zrazy on both sides over medium heat until golden brown, about 5-7 minutes on each side.

Chicken zrazy with mushrooms are ready. We serve the dish hot with your favorite sauce, salad or fresh vegetables are also good. Enjoy your meal!
Also Like
Comments for "Chicken Zrazy with Mushrooms"