Minced Meat Zrazy with Omelette and Tomato (in the Oven)
by Editorial Staff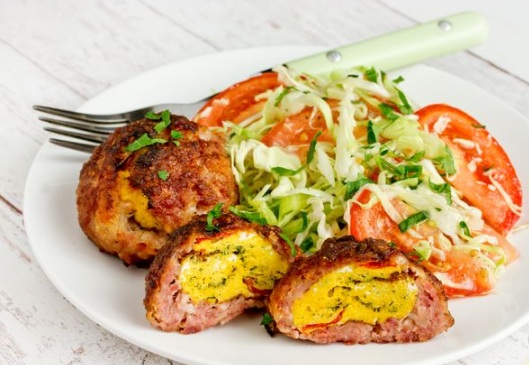 Original zrazy, baked in the oven, will become a wonderful dish that will certainly surprise your household. Zraz from minced meat is filled with an omelet with tomatoes and dill, making the zraz juicy, fragrant and beautiful in section. Meat zrazy with an omelet is very tasty!
Servings: 6
Ingredients
Minced pork – 700 g
White bread – 80 g (2-3 pieces)
Bulb onions (large) – 100 g (0.5 pcs.)
Garlic (large) – 1 clove
Milk – 5 tbsp
Salt to taste
Ground black pepper – to taste
For the omelet:
Eggs – 4 pcs.
Milk – 6 tbsp
Tomato – 120 g (1 pc.)
Fresh dill – 3-4 branches
Salt to taste
Ground black pepper – to taste
Sunflower oil – 1 tbsp
I have minced pork, you can take any meat.
Directions
Beat eggs into a bowl and pour in the milk. Use a fork or whisk to stir the eggs and milk until smooth.
Rinse the tomato, cut the stalk. Cut the tomato into medium cubes. Rinse the dull, dry, and chop. Spoon the chopped tomato and dill into the omelet mixture. Season with salt and black pepper to taste. Mix everything.

In a wide skillet, heat some sunflower oil and pour the omelet mixture. Cook the omelet, covered, over moderate heat, until the surface is firm. Gently transfer the finished omelet to the board.

Turn on the oven to heat up to 180 degrees. Place the minced meat in a bowl.
Break the bread into pieces, add milk. When the bread is soaked, wring it out. Peel the onion and garlic. Cut the onion into several pieces.
Pass the onion through a meat grinder (or chop with a blender). Pass the garlic through a press. Mash the soaked bread until fine crumbs. Add bread, onions, and garlic to the minced meat. Add salt and black pepper. Knead the minced meat until the ingredients are evenly distributed among themselves.

Form zrazy. Divide the minced meat into equal parts (I have 12 parts). Take one piece of minced meat, form a round cake and place it on one of the halves of a clean plastic bag (or cling film). Cover the flatbread with the other half of the bag and, smoothing with your palms, shape it into a thin flatbread.
Cut the omelet into rectangular pieces according to the number of future times (12 pieces).
Roll one piece of omelet into a roll and place in the middle of the minced meat flatbread.

Using a bag, cover the omelet with minced meat, giving the zrazy a ball. Form zrazy from the remaining minced meat and filling in the same way. Place the zrazy in a baking dish.

Bake the zrazy in the preheated oven for about 40 minutes (be guided by your oven). Minced meat zrazy with an omelet, baked in the oven, ready.

Serve hot zrazy with any side dish. Enjoy your meal!
Also Like
Comments for "Minced Meat Zrazy with Omelette and Tomato (in the Oven)"