Zrazy with Quail Eggs
by Editorial Staff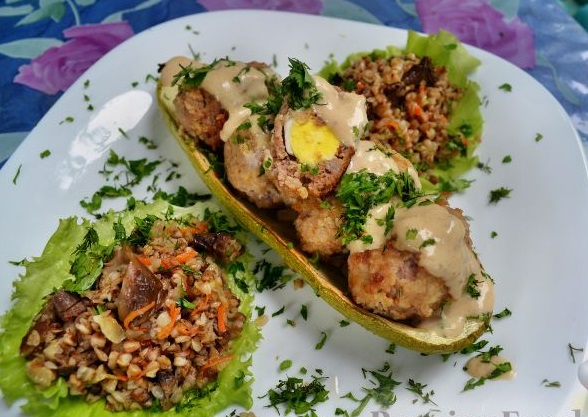 Meat zrazy with egg is served in a baked zucchini. As a garnish – buckwheat with porcini mushrooms.
Ingredients
Minced pork and beef – 150 g
Quail eggs – 5 pcs.
Onions – 25 g (for minced meat) + 20 g (for buckwheat)
Oregano dry – pinch
Ground paprika – pinch
Cheese cracker – 50 g
Zucchini – 0.5 pcs.
Buckwheat – 100 g
Dried porcini mushrooms (boiled) – 30 g
Carrots – 20 g
Butter – 10 g
Vegetable oil for frying
Greens
Lettuce leaves
For the sauce:
Wine
Cream
Parmesan
Demi-glace sauce (demi-glace) dry
Directions
How to cook zrazy with quail eggs:
Add finely chopped onion, oregano, paprika, salt, and pepper to the minced meat. Knead well with your hands and leave aside.
Cut the zucchini lengthwise, take out the middle of the zucchini with a tablespoon, grease it with oil and send it to bake in the oven for 15 minutes at 220 degrees.
Boil quail eggs.
We put buckwheat to cook and throw mushrooms in the same water. Salt and pepper.
In a separate frying pan, fry the onions and carrots in butter, add the cooked buckwheat with mushrooms.
For breading cutlets, grind the cracker into small crumbs.
Next, we make zrazy. We collect 30 grams of minced meat in the palm of our hand, put an egg in the middle, cover it with minced meat on all sides, roll in breading.
Fry the finished zrazy with quail eggs over high heat in a pan on all sides for a couple of minutes.
We shift the zrazy with quail eggs into a heat-resistant form, and into the oven for 10 minutes at 180 degrees.
In the meantime, we are preparing the sauce: pour the wine into the pan in which the zrazy was fried, stew it out slightly, pour in the cream, add the parmesan, grated on a fine grater, and a pinch of dry demi-glace. Remove from heat as soon as it thickens slightly.
We put baked zucchini on a plate, put zrazy in its groove. We put buckwheat on the salad sheets next to it. Pour the sauce over the zrazy. Sprinkle with herbs.
Enjoy your meal!
Also Like
Comments for "Zrazy with Quail Eggs"