Fettuccine with Ham
by Editorial Staff
Want to enjoy traditional Italian pasta from the comfort of your home? Then rather go to the kitchen and make ham fettuccine at home. It's delicious, very satisfying and simple.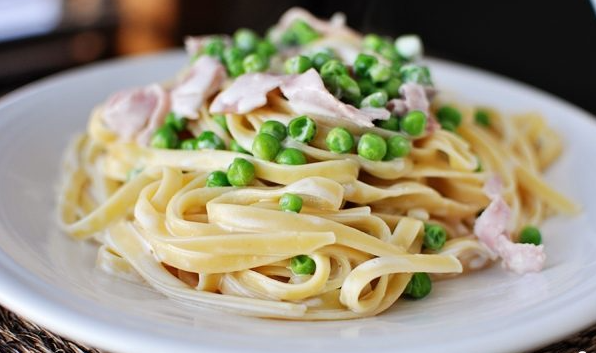 Ingredients:
Fettuccine – 300 Grams
Ham – 200 Grams
Cheese – 100-150 Grams
Butter – 20
Grams Garlic – 1-3 Cloves
Milk – 200 Milliliters
Soft cheese – 100-150 grams
Salt – 1 Pinch
Pepper – 1 Pinch
Green peas – 2-3 tbsp
Directions:
In a large saucepan, bring water to a boil, add some salt and send fettuccine. Cook, according to the instructions on the pack, over medium heat. Then fold in a colander and drain off excess liquid.
In a small saucepan, send a piece of butter and melt it.
Peel the garlic and pass it through a press. In the recipe for making fettuccine with ham, if desired, you can use whole cloves, which can be removed from the dish before serving.
Add garlic to butter and fry slightly until aroma is strong.
Pour milk in a thin stream and bring to a boil. You can replace it with cream if desired.
Season with salt and pepper to taste, add soft cheese and simmer.
Meanwhile, cut the ham into thin cubes or cubes.
When the sauce has boiled down a little, add the ham to it, mix well.
Put the pasta in the prepared sauce and mix gently.
You can add ham fettuccine at home with peas, corn or just fresh herbs.
That's all, the dish is ready and can be served.
Bon appetit!
Also Like
Comments for "Fettuccine with Ham"