Rice, Tomato and Eggplant Casserole
by Editorial Staff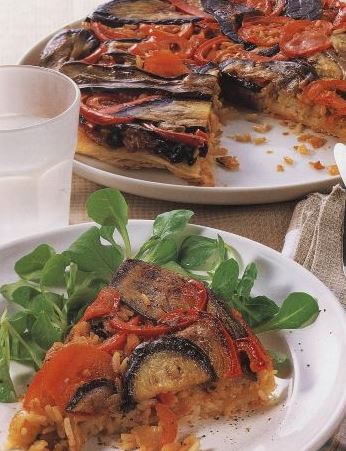 This vegetarian casserole made from rice, tomatoes, and eggplant is a complete meal for the whole family.
Ingredients
Sunflower oil – 30 g (2 tablespoon. L.)
Olive oil – 30 g (2 tablespoon. L.)
Eggplant (sliced horizontally) – 1 pc.
Bulgarian red pepper (seeded and cut into strips) – 1 pc.
Tomatoes – 5 pcs.
Red shallots (finely chopped) – 2 pcs.
Garlic (peeled and chopped) – 2-3 pcs.
White wine – 150 g
Fresh basil (finely chopped) – 2 tbsp
Long grain rice, boiled – 230 g (2 cups)
Black olives, pitted (chopped) – 40 g (2/3 cup)
Puff pastry (thawed) – 350 g
Ground black pepper to taste
Salad leaves for serving
Directions
Turn on the oven to preheat to 190 degrees. Heat 2 tablespoons of sunflower oil and 1 tablespoon of olive oil in a frying pan. Place the eggplant slices in a preheated pan and fry for about 4-5 minutes on each side. Transfer the fried eggplant to a paper towel to drain off excess fat.
In the same pan in which the eggplant was fried, put the bell pepper, mix with oil, cover the pan with a lid and fry over medium-high heat for 5-6 minutes, stirring occasionally, until the pepper is soft.
Cut two tomatoes into rings and blanch the rest in water, peel, and remove seeds. Finely chop the pulp.
In a frying pan, heat the remaining 1 tablespoon of olive oil, put the shallots and garlic in the pan, fry, stirring occasionally, for 3-4 minutes. Then add the chopped tomatoes to the pan and cook for another 2-3 minutes. Pour the wine, add basil, and black pepper. Bring the mixture to a boil, remove the pan from the stove and pour the rice and olives into it, stir.
In a round ovenproof dish, about 30 cm in diameter, layout in layers: tomato slices, fried eggplant, and pepper, and pour the rice mass on top.
Roll out the puff pastry into a circle with a dia slightly larger than the dia of your mold. Cover the dish with the dough, turning the edges inward.
Place the dish in a preheated oven and cook the rice and vegetable casserole for 25-30 minutes, until the dough is golden brown. Remove the cooked casserole from the oven, let it cool slightly at room temperature (10-15 minutes), and then turn the mold over onto a large dish so that the dough is at the bottom. Cut the casserole into portions and serve with lettuce.
Also Like
Comments for "Rice, Tomato and Eggplant Casserole"