Rice with Eggplant
by Editorial Staff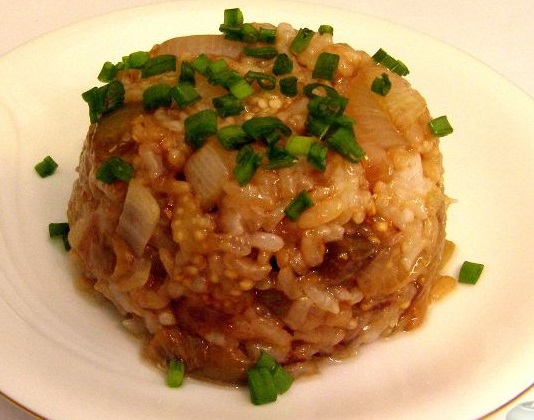 Eggplant rice is a great option for a lean menu.
Ingredients
Round rice – 100 g
Water – 200 ml
Eggplant – 200 g
Onions – 1 pc.
Vegetable oil – 4 tbsp
Salt – 0.5 teaspoon
Soy sauce – 3-4 tbsp
Green onions – to taste
Directions
How to cook eggplant rice:
Pour the rice with water, bring to a boil and cook over low heat for 15 minutes.
Peel and cut the eggplants into 1 cm cubes.
Sprinkle with salt and leave for 10 minutes. Then rinse and dry the eggplants. Peel and chop the onion.
Heat 1 tablespoon in a frying pan. a spoonful of vegetable oil. Fry the onions, stirring occasionally, over medium heat for 7-10 minutes.
Heat 3 tablespoon in a frying pan. tablespoons of vegetable oil. Put the eggplants and fry them, stirring occasionally, over high heat until golden brown (7-10 minutes),
Mix eggplant, onion, and rice. Stir the rice with eggplant and onion.

Pour in the soy sauce, stir thoroughly, cover and simmer the rice with eggplant over low heat for 5-7 minutes. Chop the green onion.
When serving rice with eggplant, sprinkle with green onions.
Also Like
Comments for "Rice with Eggplant"