Eggplant Adobo
by Editorial Staff
Adobo is a popular Filipino dish. It is most often prepared from meat, but there are fish and vegetable options. I present to you one of the options – an eggplant adobo. A very tasty, simple and incredibly satisfying dish. Great for those who are fasting.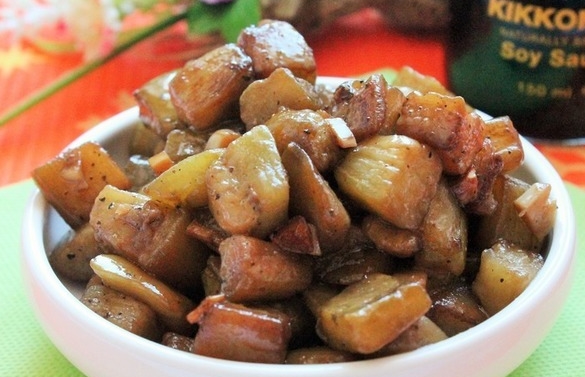 Cook: 35 mins
Ingredients
Garlic – 4 teeth
Allspice – 1 teaspoon
Salt – 1 teaspoon
Eggplant – 2 pieces
Soy sauce – 4 tablespoons l.
Vegetable oil – 3 tablespoon. l.
Vinegar – 2 tablespoon. l.
Directions
Wash the eggplants and peel them.
Cut into large cubes.
We put in a container, sprinkle with salt. Stir and leave for 20 minutes.
Then we rinse with cold water. Let the water drain.
We put it on a towel, dry it.
Chop the garlic.
Pour vegetable oil into a pan and fry the eggplant over high heat until golden brown. Place in a colander as desired to allow excess oil to drain.
Put the garlic in a preheated pan, pour in the vinegar, Kikkoman soy sauce. Add pepper. Vinegar can be any rice, ordinary or like my apple cider.
Bring to a boil, simmer over low heat for 5 minutes.
Then add the eggplants and keep on fire for another 5 minutes, stirring occasionally. Serve in a salad bowl. I recommend serving this dish in warm bread "platters". It turns out very tasty and juicy. I recommend this dish to everyone.
Also Like
Comments for "Eggplant Adobo"