Adobo (Chicken)
by Editorial Staff
Adobo is a Filipino term for preparing a dish by stewing meat, vegetables, poultry, or seafood in vinegar, spices, and soy sauce. This recipe can be repeated at home. Let's try! Cooking description: Unlike many Asian dishes, this is not spicy at all, but rather creamy. It is served with rice and gravy. And many will be interested in learning about how to cook adobo from chicken. The hips work best. It seems unusual for us to use coconut milk, which will give a sweet and delicate taste.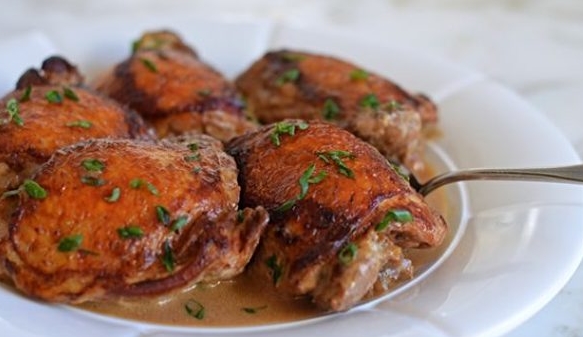 Servings: 6
Cook: 2h
Ingredients
Soy Sauce – 120 Milliliters
Chicken Thighs – 6 Pieces
Ground black pepper – 1.24 Teaspoons
Green onions – 3 Pieces (feather)
White sugar – 2 Tbsp. spoons
Coconut Milk – 400 Milliliters
Bay leaf – 3 pieces
Garlic – 8 Cloves
Rice Vinegar – 120 Milliliters
Directions
Cut off excess skin and fat from the chicken. Then leave the thighs to marinate in soy sauce for 1 hour.
Then fry the chicken in a skillet for 10 minutes skin down.
Now mix the remaining marinade with vinegar, pepper, salt, milk and sugar.
Pour the resulting sauce into a large skillet. Add bay leaves to it.
Then place the thighs in the skillet, skin side up. Bring the sauce to a boil. Simmer for 35 minutes over medium heat.
Then remove the chicken, and simmer the sauce until thick.
Serve the chicken with the gravy and chopped onion. Adobe is ready! Enjoy your meal!
Also Like
Comments for "Adobo (Chicken)"