Filipino Pork Adobo
by Editorial Staff
Interesting name?Yes, it was the name that made me study this recipe from the author of scarlet-ohara.By the way, the dish won the main prize of the culinary competition.So what?A stew … A stew is a stew in Africa.Say, every Filipino housewife prepares it with the same ease that a Russian one prepares buckwheat porridge.But there must be a mystery in this dish!Let's solve together?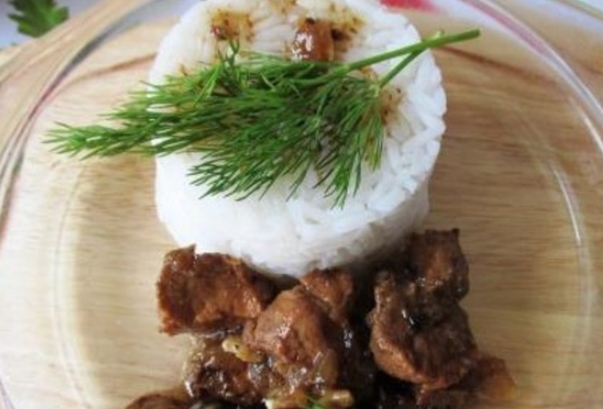 Cook: 120 mins
Ingredients
Soy sauce – 60 ml
Cloves – 6 bottles
Vinegar – 30 ml
Bay leaf – 2 pieces
Ginger – 25 g
Garlic – 3 teeth.
Pork – 650 g
Bulb onion – 1 piece
Black pepper – 10 pieces
Vegetable oil – 3 tablespoon. l.
Sweet paprika – 1 tablespoon l.
Brown sugar – 1 tablespoon l.
Directions
Cut the meat into medium slices, onion – in half rings, garlic – in slices, ginger – in small slices.
I used not fresh garlic, but dried slices, about 10 pieces.
Lightly crush the peppercorns with a crush or the flat side of a large knife
Put the meat in a frying pan with vegetable oil and fry until light blush.
Add ALL other ingredients to the meat.
Pour in a tablespoon of water, cover and simmer over very low heat for 1 to 1.5 hours until the meat is completely soft. From time to time you can add a little water, no more than 50 ml at all times.
In practice, the meat should be stewed in a mixture of vinegar and soy sauce.
The aroma was indescribable!
When the meat is tender, adjust the flavor by adding soy sauce, sugar, or vinegar.
Cook rice for garnish, put our adobo and enjoy!
Very tasty!
Also Like
Comments for "Filipino Pork Adobo"