Tasty Adobo
by Editorial Staff
Adobo is a Filipino dish that men will surely love. At first glance, it looks like an ordinary roast, but with an interesting cooking technology. Usually served with rice and a glass of beer. Cooking description: I will share with you a recipe on how to cook adobo, as well as how to adapt it to our tastes. This is a very satisfying and tasty meat dish with a lot of vinegar, calamansi juice and starch. The original recipe added 100 ml of vinegar, but I still only added 50 ml. I can assume that the pork in the Philippines is tougher than ours, which is why this amount of acid is added. Calamansi juice can be substituted for lime and orange juice.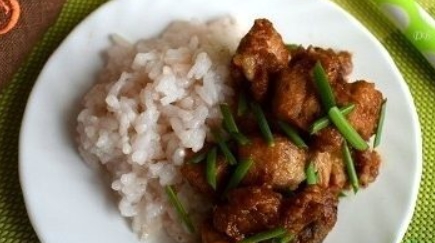 Servings: 8
Cook: 40 mins
Ingredients
Hot water – 150-200 Milliliters
Onion – 1 Piece
Olive oil – 2-3 tbsp
Starch – 2 Art. spoons
Calamansi Juice – 3 Teaspoons (or lime and orange juice)
Soy Sauce – 75 Milliliters
Vinegar 6% – 100 Milliliters
Garlic – 1-2 Cloves
Bay leaf – 4-5 pieces
Ground black pepper – To taste
Chicken meat – 500 grams
Salt – To taste
Pork – 500 Grams
Dried sweet paprika – 1 Art. the spoon
Directions
Prepare the food you need. Cut the meat into 2x2cm squares.
Peel the onion and garlic and fry in hot oil until transparent.
Add the meat and fry over high heat until golden brown.
Add soy sauce, vinegar, paprika, bay leaf, citrus juice, and water. Cover and simmer for about 30 minutes.
Dissolve the starch in a little cold water until a thick mass is obtained. Add to adobo, stir. Season with salt and pepper to taste, bring to a boil, reduce heat and simmer for another 10 minutes.
Serve hot adobo. Enjoy your meal!
Also Like
Comments for "Tasty Adobo"